With Samurai Shodown, SNK is properly back
King of the fighters.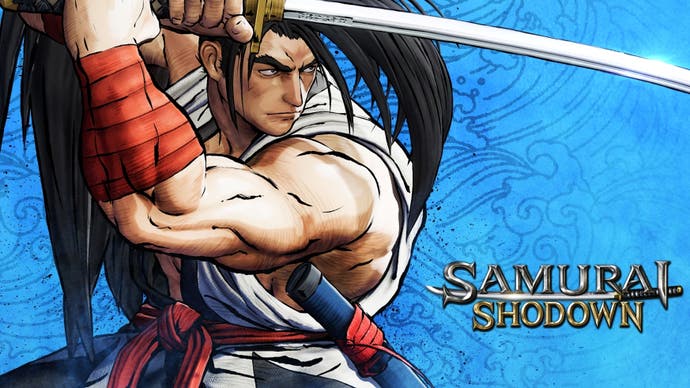 It's a prospect so exciting, it's taking everything to stop myself rushing to the streets and screaming it out loud at the top of my voice. SNK is back! It begins when you press the start button at the outset of the all-new Samurai Shodown, and when you hear that little chirrup that once heralded the start of a session on many a cherished Neo Geo. But then you see signs of it everywhere; in the colour and style and all-important swagger of a former great that's improbably found itself back in fighting shape.
The comeback has taken its time. You can trace its beginning all the way back to the company's nadir, when SNK Corporation ceased to be in 2001, all the way through to the SNK Playmore years and then through to the beginning of the resurgence in 2016 when the SNK name was fully restored. It wasn't just the name, either, with key staff coming back to help restore some of that former glory. Yasuyuki Oda, who served on the likes of Garou: Mark of the Wolves back in the day, was one of them, having spent his time away working at Dimps on such esteemed titles as Street Fighter 4. Nobuyuki Kuroki, responsible for so much of SNK's iconic artwork and another Dimps employee in the intervening years, is also back where it all began, and working as director on Samurai Shodown.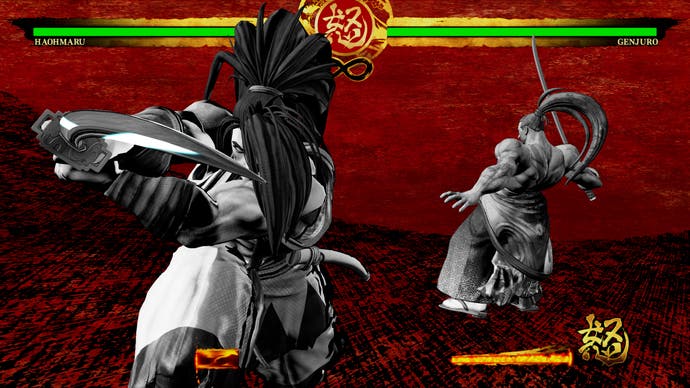 "I was gone for most of the 'dark ages'!" Kuroki tells us at a London preview event for the new game. "I'm really happy to be back - it's even better than it was in the past, especially when it comes to development. It's so much easier to get your voice heard by the higher ups than it was before, and I'm a big fan of that."
Kuroki worked alongside Oda for The King of Fighters 14, the start of the comeback and a decent one at that. This new Samurai Shodown feels more assured, more stylish and, most importantly, more SNK than all that, with an art-style that sits neatly between the 2D of old and the 3D of new (when asked about the prospect of SNK working with the 2D that made their name again, Kuroki admits it's just too much work - "To bring that kind of level to hi-res 2D art, there's just not that many people out there right now who could do that," he says. "It'd take ten years to make the kind of game I want to make in 2D.")
So why, of all the many properties in SNK's back catalogue, did they plump for Samurai Shodown? "There are a lot of different reasons," says Kuroki. "One of the big ones is that we had a lot of requests from the community to bring it back, so we wanted to fulfil that. And me, personally - I wanted to work on the series again. It's a very iconic IP, even within the SNK library. It really stands out as something distinct."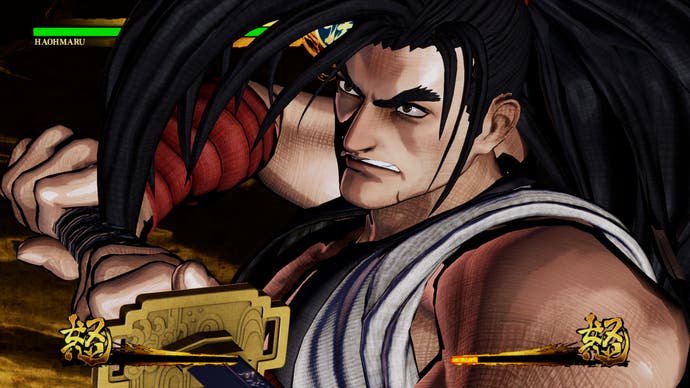 It still stands out as distinct today. The characters are drawn with heavy ink lines and given paper-like textures that help give this new Samurai Shodown its own sense of style, and beneath that there's a lot that's familiar. There'll be some 16 characters on launch, with 13 of them returning favourites, though for our first hands-on we're limited to just a handful of them - starring man Haohmaru, the American ninja Galford, the hulking Earthquake, one-eyed swordsman Jubei, the stately Genjuro, female fencer Charlotte and the eagle-assisted Nakoruru.
Within that roster there's a strong sense of returning to Samurai Shodown's heyday - namely the first two games - while folding in mechanics from across the series. This remains a damage heavy fighting game, thanks in no small part to its reliance on weapons, with fights able to be finished off by savvy players in a matter of seconds, complete with cinematic sword clashes. Counters are always ready at hand - including a spin on the Just Defend mechanic from Garou - making for fights that are measured in their pace.
And they're flourished by an abundance of character. Genjuro's specials see hanafuda cards rip away at his opponent, Charlotte's super special sees her piercing a rose placed before her foe's heart while Galford simply tosses his dog at a rival. It's a very 90s brands of action - the cutting edge here, SNK says, will be provided by an all-new and 'innovative' dojo system that uses machine learning to create ghost AI characters - but that's surely what people want from an all-new SNK game. A little of that old character, and a style that's unmistakably classic SNK.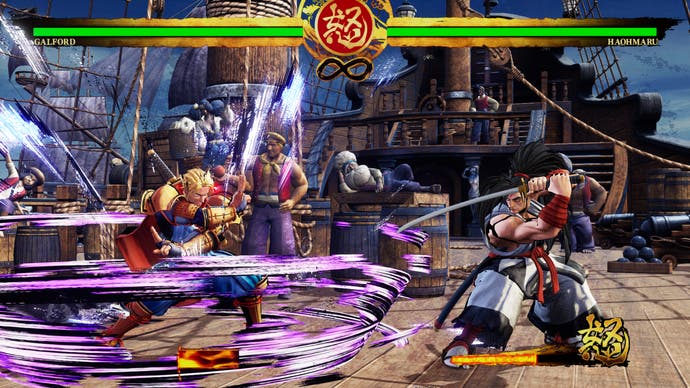 "It really comes down to the fact that a lot of veterans have come back to SNK in recent years," says Kuroki of how the company has recaptured the old spark. "A lot of people who made those old games are making new games again in the same teams. It's a lot of their direction and tastes coming through. It comes out in a lot of different ways. Here, it's about how the character models are almost deformed - that's part of it. And the way that SNK puts a big focus on the characters - the lore, their design. I had a big hand in the characters in Art of Fighting, and for these guys and girls in Samurai Shodown."
There's a short while to go until Samurai Shodown's June release - with a Switch version following on later this year - to see if SNK has fully got its groove back, though the signs couldn't be any more encouraging at the moment. And after that, there's the inevitable question of what's next for a company with an enviable back catalogue to draw from.
For Kuroki, there's one game he'd dearly love to return - even more so seeing how he contributed to a sequel that was famously aborted when SNK first went down at the turn of the century. "I'd love to work on [a Garou sequel]," he says. "It can't happen at the moment - all focus is on the titles we're working on - but I'd love to go back to that series." Here's hoping that the SNK revival goes on long enough that Kuroki's wish can come true.