Win a PSP and Valkyrie Profile goodies!
Square Enix gives.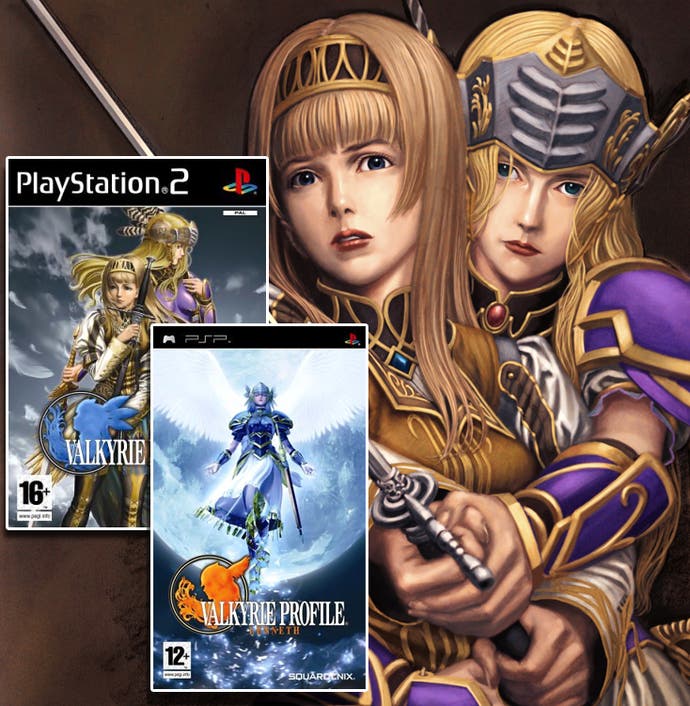 If I was about to die I would be chuffed if a lovely lady appeared before me and asked if I wanted to go and fight for the gods up in the sky. I would tell her that yes it was perfectly acceptable and maybe she would also like to kiss me if it was OK with her. We could live in heaven-place for ever and ever and make little semi-god children who would be able to choose to go to school with mortals or immortals because we are understanding parents and the facilities might be better there anyway.
Perhaps my friends are right when they say I have been spending too much time playing Valkyrie Profile: Lenneth on PSP. It is rather good though, and is only overshadowed by its even better PS2 counterpart Valkyrie Profile 2: Silmeria. You see Valkyrie are a type of Norse god that serve Odin by appearing to very brave humans before they die and recruit them as Einherjar to fight in the Aesir army against baddies. Lenneth and Silmeria are the respective stars in each of the adventures, which are such inventive and innovative role-playing gems that you will be hard-stretched not to succumb to their ethereal lure.
Square Enix knows all this, and wants to ensnare you by giving away two new Slim & Lite PSPs with a copy of Valkyrie Profile: Lenneth, as well as Valkyrie Profile 2: Silmeria and its sountrack. After that, three more of you will get a copy of each game and a soundtrack for Profile 2, and five others will get Valkyrie Profile 2. Blimey.
All you have to do is answer our silly question below. Good luck.
Which Norse god has a great big hammer?
Friday 9th November
Prizes will not be exchanged for cash or other goods - if you don't want the prize, don't enter.
No employees of Eurogamer or Square Enix may enter this competition
All entries must reach us by Friday 9th November, at which point the winners will be selected.
This competition is open to European residents only.
The judge's decision is final.