Win a free copy of Resident Evil 7 on PC
Brought to you by Jelly Deals and Bundle Stars.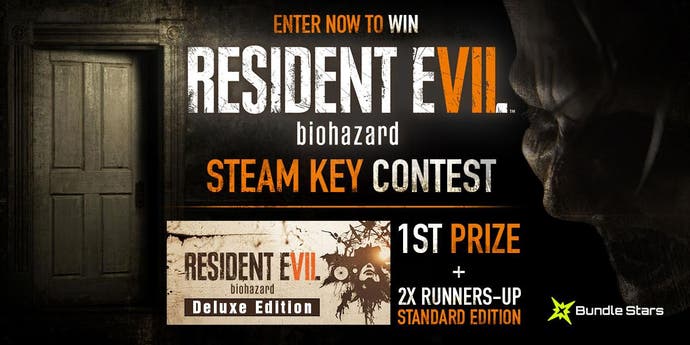 A note from the editor: Jelly Deals is a deals site launched by our parent company, Gamer Network, with a mission to find the best bargains out there. Look out for the Jelly Deals roundup of reduced-price games and kit every Saturday on Eurogamer.
---
It's January and the year in video games is just warming up, with the first major release of 2017 due before the end of the month: the distinctly gory, and we think rather promising (despite its redundant subtitle) Resident Evil 7: Biohazard. With that in mind, we at Jelly Deals and the folks over at Bundle Stars have paired up once again to offer you the chance to win some PC copies of Capcom's lean and mean new horror game.
Starting today, you can enter our contest via the widget below to be in with a chance of winning one of three PC copies of the game - two standard editions and one extra fancy Deluxe Edition. Entries close on Thursday 19th January at 9am (GMT), at which point three winners will be randomly selected and the keys will be sent out, with plenty of time for pre-loading. There are various ways to enter and boost your chance of winning, but be warned some of them do involve the use of your social media accounts (if you have them).
It's worth mentioning at this point that these Steam keys are region-locked and can only be redeemed within Europe and a set of other countries, as detailed on the product page for the game (click 'Region-locked game' for the full list). The main thing you need to know is that the keys will not work in the USA or Canada and as a result, the contest is not open to residents of either country. Apologies ! If you'd like to keep up to date with the contest as well as a constantly updating range of deals and other offers, head over to Jelly Deals.
Resident Evil 7 Contest - Eurogamer