Wii U system update finally kills TVii in Europe
RIP TVii.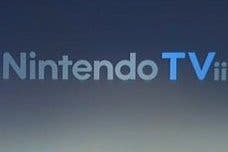 Nintendo has hammered home the final nail in TVii's coffin and removed it from the Wii U's home screen in Europe.
The company's Wii U TV programme guide app never made it to European shores, so it is little surprise that the latest Wii U firmware update has killed the TVii menu option for good.
It's more of a surprise that the option sat on the Home screen for more than two-and-a-half years, only to bring up an error code when tapped.
There's nothing else to the Wii U system update - available now worldwide - except for added "stability" (thanks, Nintendo Life).
Nintendo of Europe admitted that it had scrapped its plans to launch TVii back in February, when it blamed the complexity of managing Europe's many countries.
"We continue to challenge ourselves to develop a range of entertaining experiences for all to enjoy," Nintendo stated. "Due to the extremely complex nature of localising multiple television services across a diverse range of countries with varied licensing systems, regrettably we have taken the decision not to launch the Nintendo TVii service within the European region.
"Although on this occasion we did not anticipate such challenges, we will always strive to develop a range of entertaining experiences for all our users to enjoy."