Wii Roundup
Cars, sports, cars.
Emergency Heroes
This game looks like it's based on a shonky Saturday morning cartoon series, perhaps one subsidised by the Canadian Goverment and produced collaboratively by studios in Japan and Quebec, who argue constantly over how spiky the hair should be. In fact, Emergency Heroes has been invented by Ubisoft, and produced collaboratively by studios in Barcelona and Newcastle. I was hoping for Byker Grove as reimagined by Gaudi, but I was disappointed. Instead, think Knight Rider meets Casualty. On Caprica.
Emergency Heroes is set in a futuristic world where just one emergency service takes care of all crime, medical and fire-related business. As a member of this task force you're given a series of missions to carry out, and a collection of increasingly silly vehicles to play around with. Take the fire engine, for example - which is in fact a big red SUV with a giant hose welded to the roof. Then there's a police car which looks like a blue Batmobile with an enormous black and yellow-striped snowplow stuck on the front. There are also buggies, motorbikes, trucks and plenty of other vehicles - nearly 50 in total.
Missions involve things like chasing another car and ramming it to the point of destruction, or using the hose on to extinguish fires as you drive round a circuit. None of them are tricky to complete, and most of them are so easy as to be tedious. Like the ones where you just drive the blue Batmobile through pile after pile of burned-out cars, which requires no skill other than the ability to drive the car in a straight line.
This is a much easier proposition than in Off Road, as the controls in Emergency Heroes aren't too bad. Once again you hold the remote horizontally and tilt to steer. There's a little bit of swerving and the handbrake is so excitable it's pretty much useless, but basically the controls work.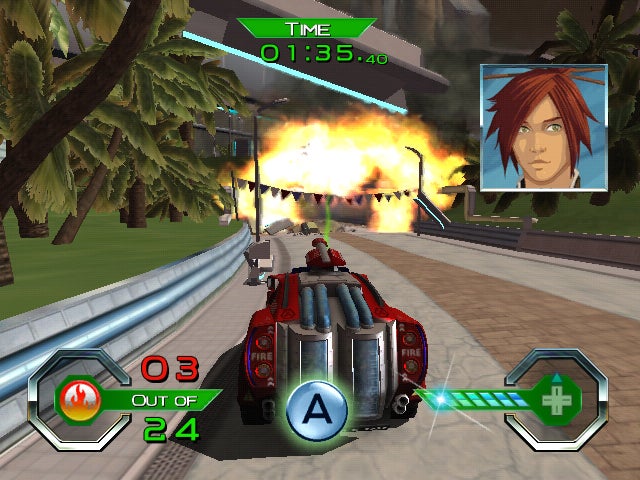 The environments are described as "free-roaming", which is fair - you can choose what order you tackle missions in, and must drive to different start points to embark on them. However, there's not much of an area to roam around, and what there is isn't pretty. It's all sci-fi skyscrapers, ramps, overpasses and monorails, and it all looks like it belongs in a PSone game.
Still. Emergency Heroes has got police snowplows and fire jeeps and motorbikes and if you fill up the turbo meter you can go faster, and you can put the siren on whenever you like, and it's not too hard and you don't die and if you are a five year-old boy you will love it.
If you're the parent of a five year-old boy, you can sit them in front of Emergency Heroes and leave the room, confident it's less graphically violent than an episode of The Archers. Just be aware that for anyone over five, it's also less thrilling. Which brings us neatly to:
5/10
Will you support Eurogamer?
We want to make Eurogamer better, and that means better for our readers - not for algorithms. You can help! Become a supporter of Eurogamer and you can view the site completely ad-free, as well as gaining exclusive access to articles, podcasts and conversations that will bring you closer to the team, the stories, and the games we all love. Subscriptions start at £3.99 / $4.99 per month.