Why Total War: Rome 2 blood and gore is DLC
It's all about the age rating.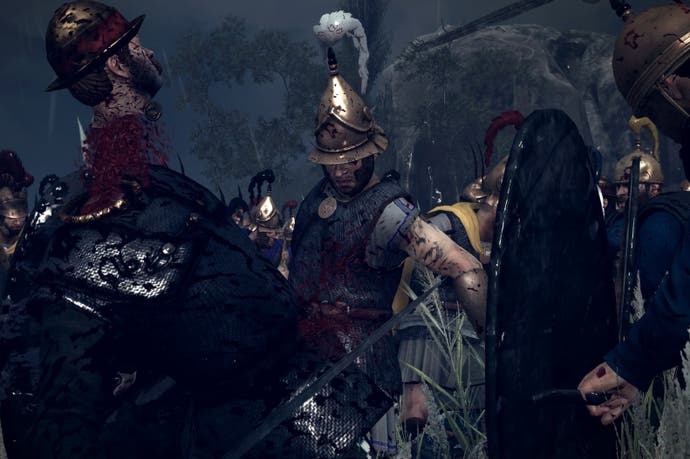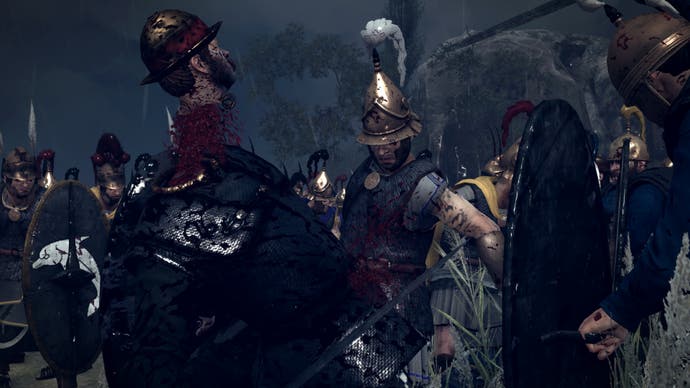 Yesterday Sega released downloadable content for Total War: Rome 2 that adds blood and gore to the game for £2.
"Blood & Gore brings the savagery of front-line combat to viscera-splattering life with decapitations, dismemberment and devastating impalements," reads the official blurb.
"Featuring hundreds of gruesome animations that play out in combat between multiple different unit types, the massed battles of Total War: Rome 2 will never be the same again."
It continues: "Employing a more refined particle system than Shogun 2, Blood & Gore for Rome 2 looks and feels grittier and more brutal. Gore coats combatants, the ground will become soaked with blood, and you'll hear every stab, slash and impact with bespoke new sound effects."
Here's the list of additions the Blood Pack gets you:
New blood-spattered front end
Graphics option for turning on/off blood
Blood VFX on arrow/pilum/javelin impacts
Blood VFX on rock/stone impacts
Blood VFX on death animations
Blood shader on death animations and attackers
Decapitation on selected death animations
Dismemberment on selected death animations
Blood decals on terrain
Sound effects for all blood animations
All this, Sega announced, for £1.99.
This isn't the first time Sega has released blood and gore as DLC for a Total War game. Back in 2011 it launched a Blood Pack DLC for Total War: Shogun 2. On Steam this costs 99p.
Some players, though, were upset at the move to do the same for Rome 2, feeling something aesthetic such as blood and gore should have been included with the game in the first place.
As one user on NeoGAF put it: "Is this what it's come to?? Really? We can't even have proper blood and gore in our video games as standard any more? I tell you what, the sooner this micro-transaction bullshit passes the industry by, the better."
We asked The Creative Assembly to clarify the decision to charge for blood and gore as post-launch DLC, and were told it was down to securing a 16 PEGI age-rating for the main game. As you can see from the video below, the Blood Pack carries a PEGI 18 rating.
"Like the popular Blood Pack for Shogun 2, it is additional content that is not part of the main game," Total War brand director Rob Bartholomew said.
"As the main game is rated for a teen or 16 audience, and we don't want to raise that requirement for a lot of our fans who are that age, Blood & Gore has always been intended to be a separate additional product and is age rated appropriately."