Why Forza Motorsport 5 has fewer cars and tracks than Forza 4
Dan Greenawalt on Turn 10's next-gen vision, its new track scans and its DLC plans.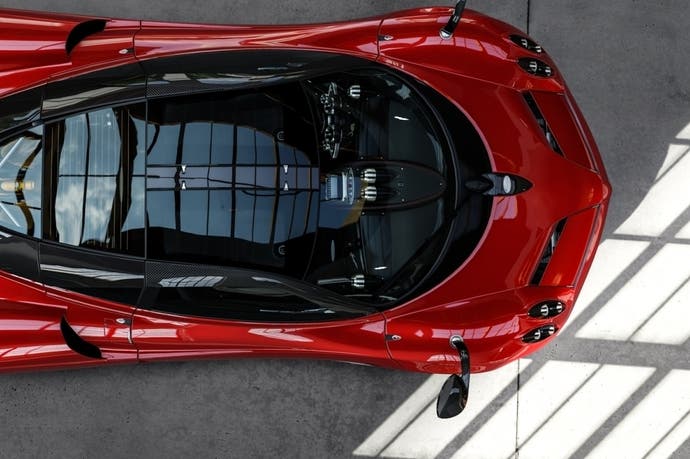 Xbox One launch title Forza Motorsport 5 is set to feature 14 tracks and just over 200 cars - almost halving the 26 circuits and 500 cars offered by its predecessor - as Turn 10 places an emphasis on quality over quantity for its next-gen debut.
Casualties include Suzuka, Infineon Raceway and, perhaps most notably, the Nurburgring and its famously torturous 12.93 mile long Nordschleife configuration. They're victim, Turn 10's creative director Dan Greenawalt told Eurogamer, to the level of detail required in Forza's next-gen vision.
"Some of the tracks needed updating," said Greenawalt. "Some of them needed light updating, and some of them needed heavy updating. Silverstone, for example, was a complete recapture. Several of our tracks were just plain wrong, either because they were poorly captured and technology's moved on, or the track's changed like Silverstone.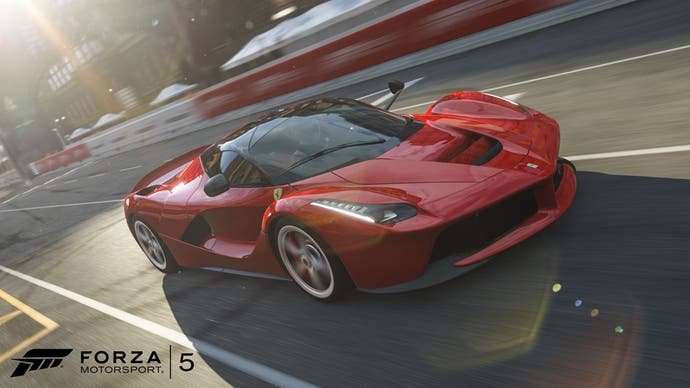 "We're grading the tracks on what state they're in, and if they didn't make the grade they were gone. For me it was less about do I want to deliver this or want to deliver that, I wanted to deliver the next-generation quality - and that meant having the shaders, and the imperfections in the concrete. And the easiest way to get those is to laser scan the track, as that captures those imperfections. We had old references on tracks where if the tracks we had were close we were able to go back to the old reference and recreate that imperfection. By definition that means these tracks take more time than ever."
Polyphony's Gran Turismo 6 recently had its car and track-list confirmed, with some 39 circuits and 1197 vehicles featuring - but it's worth noting that a bulk of that content has been ported over from versions of Gran Turismo that stretch as far back as its PlayStation 2 days.
"We're looking at laser scanning of everything moving forward - that's what it comes down to," Greenawalt said of Turn 10's approach. "We want that to be the standard for next-generation. Our goal's not to carry old content over - and even with all the cars, we did the same process. There were some inaccuracies, and some cars were old-spec that we'd updated from Forza 2 to 3 to 4. But they didn't have the poly count where we wanted it - and they weren't as easy to up-res, so we just recaptured them. Some of them, the spec was good and we could add polygons where we needed them. So it came down to this rating system - and any track or car that wasn't an A grade got either chucked or recaptured."
The tracks that have been added to Forza's roster for the Xbox One game are certainly noteworthy. Spa Francorchamps, the host of the Belgian GP and one of the finest circuits in contemporary use, features, as does Bathurst's Mount Panorama circuit, complete with the famously challenging section that scales the mountainside before coming careering back down again.
And likewise the car list, while slimmer, is more diverse. Open-wheel cars make their debut in Forza in the form of the Dallara DW12 that's used in the Indycar series, and two classic F1 cars in the Ferrari 312T and McLaren M23, both from the 1976 season. A new announcement introduces a more modern example in the Lotus E21, the F1 car that's been campaigned by Kimi Raikkonen and Romain Grosjean this season.
Forza Motorsport 5 also can boast having two of the most-talked about members of the motoring industry at present with the McLaren P1 and LaFerrari hypercars (there's no Porsche 918, sadly, and no word if there will be another licensing deal struck up that will allow the Stuttgart marque to make an appearance). Forza Motorsport 5 will be the first game to feature the LaFerrari, the ludicrously powerful hybrid from Maranello, and controversially it's going to be paid day one DLC.
"The thing with these hypercars, they're getting worked on very late," Greenawalt said of the LaFerrari, which is still not implemented in the game. "Even the P1 - we had one on stand for E3, but that's changed since then. They added more heatshielding under the exhaust, and the mesh on the back changed. It's one thing doing a Focus - when it's done it's done, and Ford will mass-produce them. When you're talking about a car with 300 being made, they may change that at any time."
So why the decision to charge for the LaFerrari?
"We found that we ship a game that has over 200 cars, and they're all to this level of detail with huge diversity. It's been a successful program for us, having the paid DLC. Those that don't want it don't have to get it, and those that want it can buy it. The season pass allows them to buy it as a subscription."
Forza Motorsport 5's season pass costs some $50, and allows access to six monthly add-ons that feature 10 cars each. It's not an uncommon practice for the series, but is it good value? "The response has been good. That's not to say everyone's been happy about it. It's just to say that the response with people that have been buying it and redeeming it, it's one thing to buy it but if it's a season pass it's whether or not you log in every month to get it. People have been making the purchase and then logging in. It's kind of like the whole gym membership thing - you buy 6 months and you never go. With the season passes, people redeem it, so we're keeping people playing for 6 months."
There's hope that some of those missing tracks will make their way to Forza Motorsport 5 - indeed there's a rumour that the Nurburgring is shaping up for release early next year - but there's no commitment from Turn 10 just yet. "We're looking at what we're going to add as DLC. Obviously we're committed to cars - that's something we do very well. We're looking at tracks as well to see what we can do there."