Where to find your Borderlands 2 pre-order Top Trumps
Eurogamer lists the indie shops taking part.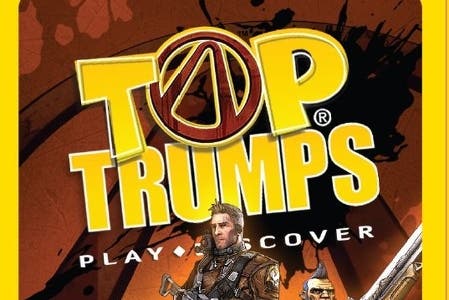 Indie game shops around the UK will be offering an exclusive deck of Borderlands 2 Top Trumps to those who pre-order the game - and Eurogamer now has a list of the retailers taking part.
The Borderlands 2 'Guns Guns Guns' deck will never be on sale anywhere else, publisher 2K Games announced last week.
Just 5000 packs will be made.
Fancy comparing gun sizes, or beating your mate's fire rate? Cast your eyes below to our comprehensive table.
Borderlands 2 launches on 21st September and - wait - there's nowhere offering the deal in Brighton?! For shame.
| Retailer | Location |
| --- | --- |
| Next Dimension | ARBROATH |
| Extreme Gamez Ltd | ASHBY-DE-LA-ZOUCH |
| Gynx Retail | BASINGSTOKE |
| Consoles Games Ltd | BIRMINGHAM |
| GXE Web Ltd | BLACKBURN |
| Eclipse Home Entertainment Ltd | BLACKPOOL |
| 720 Games | BODMIN |
| Player One Games | BOURNE |
| Backyardgames Ltd | BRECHIN |
| Console Magic | BRIGHOUSE |
| DJ Computers | BRISTOL |
| M I Games | BURNHAM-ON-SEA |
| Games Arena Limited | BURNLEY |
| Wayne's Movies & Games | CALLINGTON |
| Cambridge Toys and Games Ltd | CAMBRIDGE |
| EDS Enterprises Limited | CHELTENHAM |
| Game Connection (UK) Ltd | CHESTER |
| Video Gaming 24/7 | CHESTER LE STREET |
| Christopher Townsend | CHESTERFIELD |
| Insane Games | CLEVEDON |
| Sega Supplies Ltd | CRADLEY HEATH |
| Gadgets & Gaming Ltd | CROYDON |
| Games-X-Change (UK) | DARLINGTON |
| Gameforce | DONCASTER |
| Muckell + McNeill Ltd | DOVER |
| Stans Games Exchange | FALMOUTH |
| Gamespod | FARNHAM |
| Play-Away Ltd | FOLKESTONE |
| Games Connection Ltd | GERRARDS CROSS |
| Gametex Ltd | GLASGOW |
| Home Connection Ltd | GLASGOW |
| Chips Guisborough | GUISBOROUGH |
| Market Games | HANLEY |
| Game World | HINCKLEY |
| Gaming Express | HONITON |
| Music Corner Ltd | HORLEY |
| Universal Traders Ltd | HOUNSLOW |
| Direct Video Services | HOVE |
| Tomorrows World Home Entertainment Ltd | HOVE |
| Heroes Hideout | HULL |
| A 2 Z Gamez | KEIGHLEY |
| Netdisc Ltd | KENDAL |
| Games Centre Ltd | KILMARNOCK |
| Grooves | KIRKWALL |
| Game World | LEICESTER |
| MBL Direct Limited | LEYLAND |
| Gamesworld4u Ltd | LONDON |
| Mad4Gamez | LONDON |
| The Game Center Ltd | LONDON |
| Goldstar Assets Ltd | LONDON |
| Creative Entertainment Exchange | LONDON |
| Louth Electronics Ltd | LOUTH |
| Game Dojo | LYTHAM ST. ANNES |
| Bits And Pieces | MACCLESFIELD |
| 24-7 Games Ltd | MAIDENHEAD |
| Propel Gamer Ltd | MANCHESTER |
| Gamingalore | MELKSHAM |
| Newark Games Ltd | NEWARK |
| Chips - Newcastle Under Lyne | NEWCASTLE |
| EGO | NEWTOWN |
| Boomerang Video Ltd | NORTHAMPTON |
| F A Kerrison Ltd | NORWICH |
| That Game Shop | NOTTINGHAM |
| Fusion Games Exchange | OTLEY |
| Just Like New | PLYMOUTH |
| Game X Change | PONTEFRACT |
| Ross Records Ltd | PORTSMOUTH |
| Thatz Entertainment.com | ROMFORD |
| Outland Video Games Ltd | RYDE |
| Russell Games Ltd T/as Game On | SAFFRON WALDEN |
| Playtime Video Games Ltd | SHEFFIELD |
| Console Connections | SHILDON |
| Totally Games Ltd | SHREWSBURY |
| Fusion Gamez | SKIPTON |
| Sholing Video/Southern Video Hire | SOUTHAMPTON |
| Re-play Limited | ST HELIER |
| Seedee Jons Ltd | ST HELIER |
| Entertainment Base | St Neots |
| Tech-Mobile.co.uk Limited | STORNOWAY |
| Discover | STRANRAER |
| ACP (Acoustics) Ltd | SUTTON-IN-ASHFIELD |
| Extreme Gamez Ltd | SWADLINCOTE |
| Console Connections | TRURO |
| Game on | WALSALL |
| Awesome Games | WALTHAMSTOW |
| Discz | WATERLOOVILLE |
| Insane Games | WELLS |
| MT Games Ltd | WESTON-SUPER-MARE |
| Snorks Store | WIGAN |
| Game Zone 2 | WIRRAL |
| Seventh Heaven Computers | WISBECH |
| Home Computers (Radcliffe) Ltd | WYTHENSHAWE |