Where Cards Fall knows what's truly great about its 52 co-stars
Snap.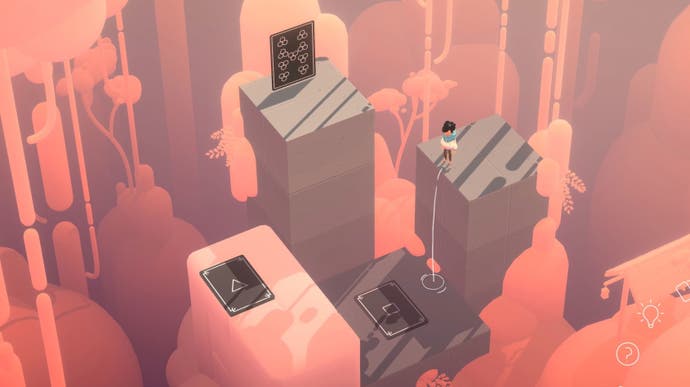 Cards are everywhere in games it seems. Steam is filled with excellent CCGs, and even action games like Back 4 Blood have discovered that cards are an ideal way to deal with cascading fountains of perks and buffs. At night with screens off I might play a round of Exploding Kittens or Bandido on the kitchen table. I am never far away from cards.
But one of the greatest things about cards rarely gets a look in. This is what makes the reappearance of Apple Arcade launch charmer, Where Cards Fall, on Switch and PC such a pleasant thing. Where Cards Fall is a puzzle game, like hundreds of other card games. But it's also a platform game. A platform game in which the platforms are made of cards.
Cards are everywhere in Where Cards Fall. They're standing up, Monolith-like, as the starting line and goal for each of the 3D puzzle spaces you're dropped into. But they also pool and flock on the ground. You can pick up individual decks, and then expand them to fill a certain space and - snap! - they burst upwards to form a card house that you can use to help you get from A to B. A platform to fill a gap. A peaked roof to let you climb higher. As a puzzle platformer it's extremely clever stuff - and even with the slightly fiddly controls on Switch that can make moving between decks a bit of a bother, it's still a tactile pleasure.
All of that is wonderful. But what I love is the pleasure of cards as physical objects - flat surfaces that can surprise as they form rigid structures, or collapse into scatterings on the breeze. When you watch a great magician at work, it can feel like you're really watching an animator. The cards dance and flex and seem to change physical properties - blades one minute, flowing water the next. And then, the greatest part of any magic trick, when the cards are finally back in your hands - they're just cards. They're inert, flat. The life has been removed.
Where Cards Fall is triply smart then. It uses card houses to hint at the rickety nature of human memory in a plot that sees a character going over their past experiences and struggles. It uses cards to transform the landscape and make hard-to-reach spots easily attainable. And it is a reminder of the tricksy physical magic of a deck of cards - paper that seems to want to come to life.