What will Dust 514 do about PlayStation 4?
"Like Eve, we believe Dust is going to be a long-term service."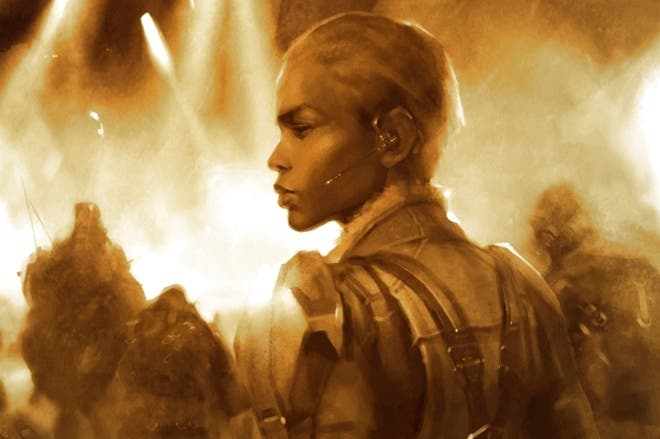 What does free-to-play online PS3 shooter Dust 514 do about PlayStation 4? The game lives on the PlayStation Network and connects to the nearly 10-year-old universe of Eve Online. Dust 514 isn't even out yet: it's in open beta. It can't have been built to simply end when PS4 takes over, can it?
"Like Eve, we believe Dust is going to be a long-term service that will vastly outlive the hardware that it launches on, much like Eve has vastly surpassed the graphics cards and processors of the PCs it launched on in 2003," answered David Reid, chief marketing officer at CCP. "It's just merely a different platform."
David Reid worked for Microsoft's Xbox 360 team and said he learned then that "it was really important to make sure that as these online gaming communities start, they don't have to stop playing and stop interacting simply because new hardware has come out".
He continued: "We don't have anything to add to what Sony presented in their press conference other than the fact they've been a great partner, we talk with them all the time about these things and we've got a lot of confidence for Dust on PlayStation 3 today and living on as a service on next-generation platforms and beyond from there. But no dates or anything like that that we could talk about at this time."
The focus right now is on making the game "super-slick" on PlayStation 3, addded CCP CEO Hilmar Veigar Pétursson. And he doesn't believe those efforts will be outdated quickly. "PlayStation 3 I think is going to stay even more relevant than in previous cycles," he told me.
"We saw a lot of the announcements around the PlayStation 4 event that there's a lot of interesting new ways to breach content across the platforms," he added.
"The interplay between all these different PlayStation 3s and 4s... There are so many opportunities there. But the important thing is not to get lost with them.
"We know from previous exercises with Eve, where we changed the whole of the 3D engine while the game was running in 2007 with the release of Trinity 2.0, there are so many ways to do this. But really," he added, veering back on course, "we're now focused on creating the best free-to-play shooter experience ever brought to the PlayStation 3."
"We've got a lot of confidence for Dust on PlayStation 3 today and living on as a service on next-generation platforms and beyond..."

David Reid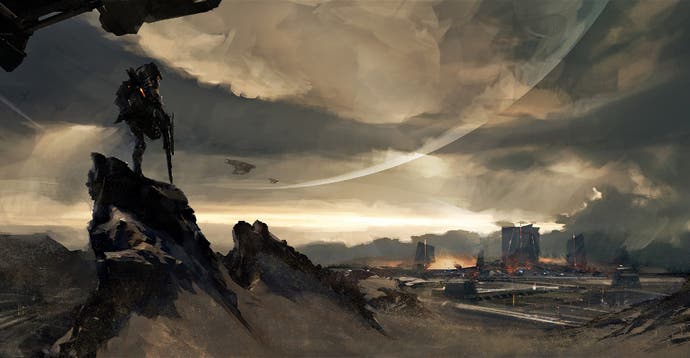 Dust 514 was always a bit of a gamble for the Eve Online maker - it's a console shooter not a PC spaceship game after all. But since entering open beta in late January it's apparently already had millions of people play it, David Reid revealed.
"We've grown from the hundreds of thousands that we had in closed beta to millions of people now," he said. "We're not in a position yet to give all, full, precise, numbers, but we're seeing a very good trajectory right now, which makes a lot of sense, right?
"You're sitting there on the PlayStation 3, it's a free-to-play shooter, we're in the PlayStation Network, you know, tens of thousands of people every day are able to join the game."
What about a final release date? "2013!" joked Reid. "It's not far away but we're not in a position to give you an official date just yet. The open beta's going very well. Based on the trajectory we're seeing it's not far off."
As we approach the next generation of consoles, companies will reassess what kinds of experience are capable on them. They're more powerful machines and hopefully more open - does that mean there's hope for Eve Online making the transition?
"You can never say never," David Reid said. "There's really no telling what will happen in the second decade here technologically and stuff.
"But in the end, the view here of consoles for us is the same view as when we look out longer [at] tablets and mobile and such: the idea that Eve at its essence [is] a PC MMO that you pay a subscription fee for and you fly around in space."
"It's more about the mindset and mode of playing than it is about the hardware per say," Hilmar Veigar Pétursson pointed out.
"If Eve Online ends up on a console at some point in the future it will be because it was the right decision for Eve Online and for its community," David Reid concluded.
"But I don't think we're done with expanding the Eve universe in terms of devices and genres and other ways to connect to that magic sandbox of a single-shard universe."
Is it me, or did he just tease more spin-off experiences like Dust 514 for Eve Online - experiences better suited to other devices?
"I don't think we're done with expanding the Eve universe in terms of devices and genres and other ways to connect to that magic sandbox of a single-shard universe."

David Reid