What we've been playing
A few of the games that have us hooked at the moment.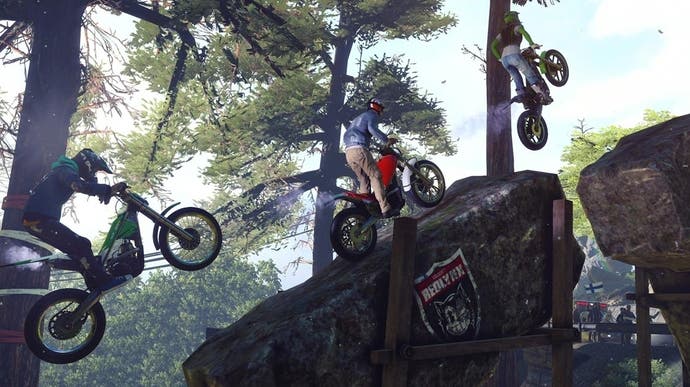 29th of January, 2021
Hello! Welcome back to a new regular feature where we write a little bit about some of the games we've found ourselves playing over the last few weeks. This time: an R-Type off-shoot, a landlord game and a bit of Trials.
---
X Multiply, Switch, PS4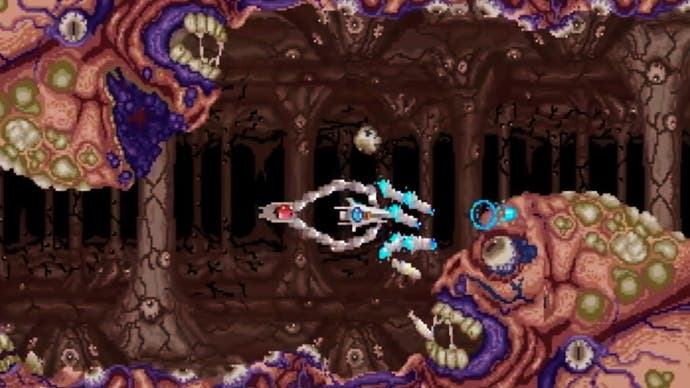 I got to interview a bit of a hero of mine in the early hours of Tuesday morning - Irem alumni and R-Type Final director Kazuma Kujo - and I kept myself up by partaking in some tangential research. There are so many gems in Irem's back catalogue, and a fair few of them I'm ashamed to admit I'd never even played before. Games like X Multiply, a glorious offshoot from R-Type that gets to the heart of why I love shooting games so very, very much.
There's a 2am eeriness to my favourites of the genre - the likes of Gradius and Darius - that's shared with great sci-fi cover art; a sort of vast melancholy that works as a counterpoint to the high energy thrills of playing the thing. X Multiply takes all that to an extreme. Giger-inspired levels are pretty much a prerequisite for shooting games of this era, but none of them are as squishy, as full of dank horror, as X Multiply's effort. As the opening level, it sets the tone for an enjoyably weird game.
Martin Robinson
Luck be a Landlord, PC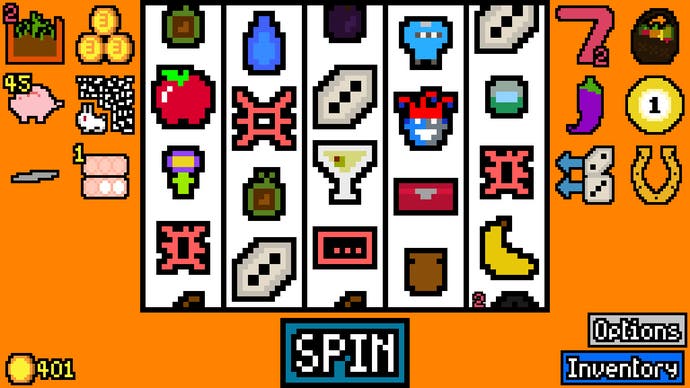 Slot machines and landlords: I think it's pretty safe to say you couldn't find two more unappealing ingredients for a game, and yet, I'm bewitched. This is a kind of deck-building game, except the deck you're building is made up of the symbols you see on slot machines. You start with a base deck - a cherry, a flower, that kind of thing - and then add a symbol after each spin. The aim is to make enough points/money to pay your rent after a few spins. But the rent price gradually increases, because landlords, therefore you have to find ways to unlock symbol-combos to keep pace.
Monkey symbols, for instance, eat nearby coconut symbols, earning you ooh-ooh-oodles of money, but the coconuts eventually disappear. Flowers, on the other hand, stick around, and they can be improved by nearby rain symbols and lightbulbs. Toddlers, true to form, eat candy and destroy pinatas. There are thieves and bounty hunters, golems and grannies. There are all kinds of symbols. It's quite imaginative. And, yes, I know it's effectively a slot machine, but it's a surprisingly compelling mix. There's a free demo to try, too.
Bertie
Trials Rising, Switch, PC, PS4, Xbox One
Trials on Switch has turned out to be a great lockdown favourite, largely because it's a brilliant multiplayer game. Hand out the Joy-cons: One person accelerates and restarts, the other alters the weight of the rider. Trials is a game about launching a motorbike across terrifying 2D gauntlets, shifting your center of gravity back and forth to stop yourself from wiping out. It's precise! And precision pretty much goes out of the window when you split up the controls. But it's very entertaining.
Most entertaining of all is a skill game called Bomb Bouncer, in which you fire your bike down a track, trying to get as far as you can. The gimmick is that the track is lined with explosive barrels, and you can control your flailing, flaming body once it's been blasted back into the air after impact. We got Gold ages ago, but we're still at it, ragdolling through the sky, restarting, ragdolling again and restarting again. Just magic.
Chris Donlan