Well ale be! Tavern sim Crossroads Inn takes to Kickstarter
G'lug!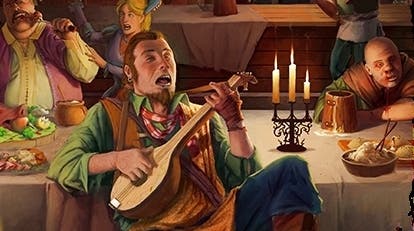 Crossroads Inn, a fantasy tavern simulator - probably the best game idea in the world - has taken to Kickstarter.
This is the RPG tavern sim we wrote about last autumn. It lets you design and build your very own tavern in a fantasy world, and manage, stock and staff it.
As your popularity rises, more people of more influence will pass through. You will house adventurers (sometimes with griffin), politicians, lords and ladies, and bend their sozzled ears to your wise words - allowing you to involve yourself in kingdom-shaping decisions.
Crossroads Inn had a vague 2019 release date when we wrote about it last - and a publisher. In fact, it's the publisher credited with the Kickstarter campaign. The idea is to both raise funds - £23,249 - to finish the game, and to establish a community around the game. Apparently it's very far along.
An Xbox One version was mentioned before but there's no sign of it now. The Kickstarter campaign mentions PC only. "Coming soon."