We go inside CD Projekt Red's stylish Krakow office
And search for clues.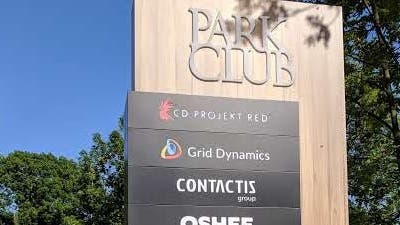 CD Projekt Red is expanding. The main Warsaw office has ballooned and the company has opened two other studios in Poland, one in Wrocław and one in Kraków - which is where I am now.
The CDPR Kraków was actually opened all the way back in 2013, put to work collaborating on The Witcher 3: Wild Hunt expansions Hearts of Stone and Blood and Wine. But it wasn't until this year, roughly 12 months after moving into a new space, CD Projekt Red was comfortable inviting people in.
Yesterday I visited CD Projekt Red Kraków as part of a pre-Digital Dragons 2018 soiree (CDPR is the main sponsor this year).
The studios is on the fourth floor of a stylish glass office facing out onto a large park with a surprising amount of rollerbladers in (apparently it's a big thing here). The office space is roughly shaped like a big circle, so you can walk around uninterrupted, and is a mixture of open-planned desk space and glass-walled offices.
The walls are all windows so loads of natural light pours in, although I bet the blinds are down when visitors are not around, and there are bean bags, sofas and even brightly coloured wingback chairs I would like to steal. CDPR even has climbers growing up purpose-built metal trellises. It's all very hip.
CDPR Kraków houses between 60-70 developers. Clues as to what the studio is working had, unfortunately, been cleared away - whiteboards wiped, desks cleaned, walls stripped of any telltale signs. But I imagine it's helping build Cyberpunk 2077, which the world expects to be unveiled at E3 next month.
I recorded a short video (I'm sorry I turned the camera halfway through) and also took some pictures of the posters on the walls because I was feeling equal parts nosy and silly.