Wattam is Katamari creator Keita Takahashi at his gleeful, goofy best
"I eat you then I poop you out."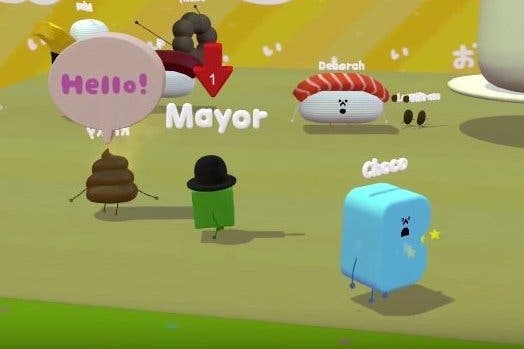 "I eat you then I poop you out."
These are the first words spoken to me by Katamari Damacy creator Keita Takahashi. To be fair, this phrase makes sense in the context of us playing his upcoming game Wattam. Takahashi had just eaten me and pooped me out.
That shouldn't come as surprise in a game like this, which bears more in common with Takahashi's experimental Noby Noby Boy than the goal oriented tomfoolery of Katamari. Wattam, which makes Pee-Wee's Playhouse look like a drab DMV in comparison, revolves around a plot of land where sentient every day objects come to life, throw parties, and create explosions to lure back its citizens after the Mayor accidentally blasted them into space.
What makes Wattam such a joy is that everything is alive. The plots of land are alive. The sushi is alive. The turntables, lawnmowers, flowers and rainclouds are alive. Even the poop is alive. And every character has their own unique moves. A golden lawnmower cuts grass and turns the clippings into coins, the turntable is the life of the party encouraging all those in its vicinity to get jiggy with it, while the sushi can jump and float using its sashimi as a hang-glider. From what I can gather, none of this is especially necessary in practical terms. But that's what makes it oh so necessary.
Actually advancing the narrative is simple, at least in the early demo. You merely have to get a group of characters to hold hands then blow them up with the Mayor's trademark bomb on his head. But that's mere busywork. The fun comes from experimenting with the different characters, who you can switch between at the touch of a button. I, being the meticulous journalist that I am, was attempting to complete the challenges and see more of the game while Takahashi isn't having any of that. At every turn he sabotages my endeavours by warping into another character, grabbing my hand, and running us into the world's most spasmodic conga line.
This may be the first time I'm playing a game where its creator is actively trying to troll me. But why not? Wattam isn't about progressing the story, but having fun doing it. Why rush to the end when you could stop and smell the roses? Or poo, as the case may be at times. Prior to getting my hands on the game I witnessed a couple of kids having a go at it and neither child had any interest in fulfilling some sort of prescribed goal. They get enough of that in school. Wattam is about challenging the status quo and opting for something more playful.
"I thought it was fun because you could walk around and make friends, and it's like a real alive game," said Tyler, age 9, to me prior to us switching controllers. "It's fun in a different way."
Tyler has a point. Wattam is about making friends, but not necessarily with sentient coffee cups and toilets, but with the person playing beside you. It's a game about mischief and getting downright silly with another human being. Unlike most local multiplayer games, Wattam isn't about collaboration or competition, but chaos. And, in a weird way, when we bumble around this nonsensical dimension we find ourselves a little bit. Like Noby Noby Boy and Gang Beasts, Wattam is about discovering your inner child and frolicking around a whimsical play space without a care in the world. If the goal of the game is to bring odd seeming folks to its land of lunacy, Wattam's certainly done its job.