Watch: Quote is a game about burning books and getting high on ice cream
Bish bash Bosch.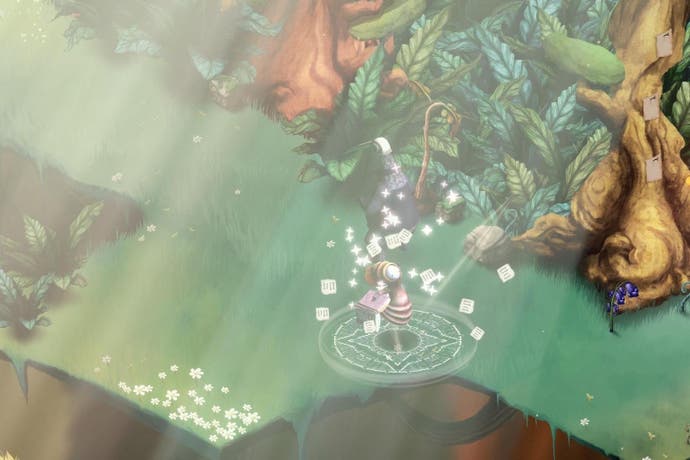 Quote is an odd game. One minute you're traipsing through the forest, seizing books and merrily burning corrupted heretic authors, and then the next, you're taking a tour of an ice-cream factory (presided over by a skipping, anthropomorphic ice cream cone) that hides a rather dark secret on its innermost factory floor. The game is primarily the work of just two people - coder Robin Lacey and artists Evan Lovejoy - who were originally inspired by the ending to Umberto Eco's The Name of the Rose, though they say the idea has evolved over a number of years to encompass a number of literary and artistic themes and motifs, referencing authors like Kurt Vonnegut and Aldous Huxley. Its art style is similarly lofty in its inspirations, paying homage to surrealists like Hieronymous Bosch, Max Ernst, and The Red Guy from Cow and Chicken.
The combat, as you'll see in our lengthy Let's Play video with the developers themselves, consists primarily of a teleport-like dash, along with heavy and light attacks. Light attacks will build up a combo meter, which in turn powers heavy attacks, which you can customise as you explore the world. Different heavy attacks, including delivering a particularly potent coup-de-grace with a book or just setting everyone you don't like on fire, can be unlocked by feeding books to your bird-man sidekick Tatters.
I didn't get to play the game for myself, but it was really interesting to talk to the developers Robin and Evan about their thought processes and the challenges involved in bringing the game to fruition. Deleting their first six months' worth of work and starting entirely from scratch, for example, sounded particularly heart-breaking, as did redrawing entire sections of the world in Photoshop (file sizes were often in excess of 10GB, with hundreds of separate layers to work from). But there were happy accidents too, like finding a new and definitive use for a character by accidentally leaving a physics collider on it, and coming up with what they're describing as THE definitive "ice-creamy music". The team are nothing if not ambitious, however; they have plans for an infinite, procedurally-generated, hand-drawn dungeon based on The Library of Babel.
The game still has a ways to go before a final release (which will be sometime in late 2017), but its first two chapters are now available as part of an alpha offering, First Draft, which players can find via its website. First Draft is available for two days, granting access to private feedback forums - and an Early Access Steam key in 2017 - as development continues.