Watch: Lumo is nostalgic and lovely
Wizbit.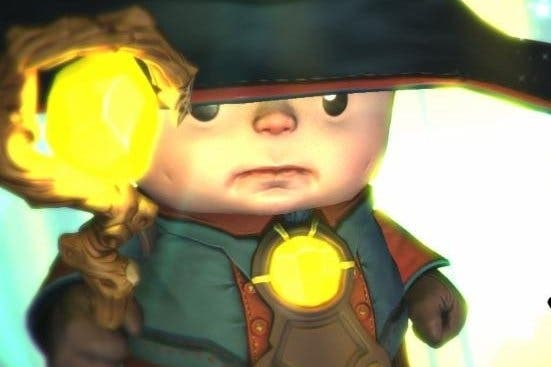 The other day, I experienced a rather unwelcome reminder of my own mortality; I found out that I was the oldest member of Eurogamer's video team by oh, about 10 years. Leaving aside from the whole 'getting closer to dying' thing though, being a decade older than the rest of my colleagues does have a few advantages, the main one being I've had the time to experience way more games than the rest of those baby-faced nerds (I'm not bitter, honest).
Having been a gamer from the days of the ZX Spectrum onwards means I'm rather susceptible to video game nostalgia, which as it turns out, is the secret ingredient to Lumo, an isometric platform-puzzler from industry veteran Gareth Noyce. Martin Robinson recently spoke to Gareth about Lumo, but I managed to get a hands on with the game at this year's EGX, and I was enchanted by its retro-inspired gameplay and the wealth of easter eggs referencing the video games of my youth. In the video below, where I play through the EGX demo, I tried my best to spot as many of those easter eggs as I could, but I've probably missed at least one (not including a copy of Your Sinclair in the elevator room that I only just noticed, dammit!) so do let me know in the comments below if you spot any.
Oh, and one thing I don't mention in this video is that Lumo is aiming for release not only on PC and Mac, but also the PS4, Xbox One, Vita and possibly even Wii U. Which is probably a useful bit of information for any fellow retro gamers out there who are interested in playing it for themselves when Lumo launches some time next year. Magic.