Watch: Just Cause 3's rocket mines are our new favourite toy
Plus more videos from Outside Xbox.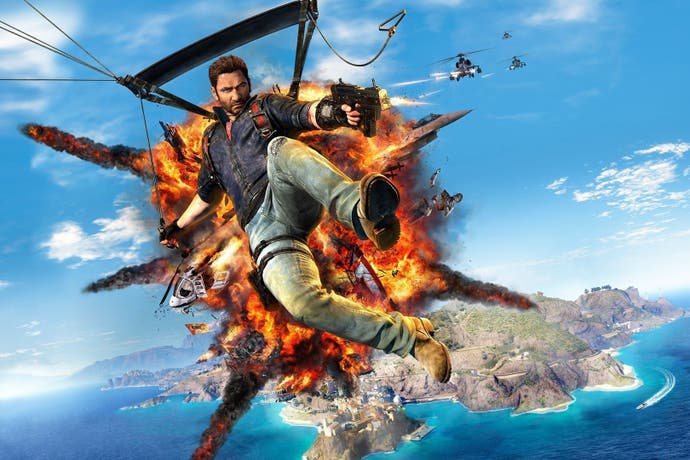 Of all the gizmos Just Cause 3 adds to the toybox of grapple-happy hero Rico, the new rocket mine is our favourite. When triggered, this sticky explosive gives a few seconds of propulsion before going boom. This produces some bizarre physicsy spectacles, such as a human ragdoll firework, or the world's least reliable flying car.
Witness the rocket mine in action in the new Just Cause 3 gameplay below, in which Mike and Andy attempt to rocket-boost a helicopter into orbit.
Speaking of explosive new footage, catch Deus Ex: Mankind Divided's Adam Jensen firing red-hot detonating blades out of his wrists in the following video. This is one of the new secondary effects achieved by charging weapons; other gameplay novelties include remote hacking and the teleport-like Icarus Dash ability. A rejigged cover system, on the other hand, lets Jensen sneak around with the kind of caution that befits a man who stores explosives in his forearms.
Now the Star Wars: Battlefront multiplayer beta is running properly, among the selection of modes you can take for a spin is Survival: a Horde-style co-op mode in which you defend against escalating waves of enemies. Andy and I play co-operatively on some backwater planet called Tatooine in this Xbox One gameplay.
Those were some video highlights from this week on Outside Xbox. Thanks for watching and for yet more videos, take a trip to outsidexbox.com.