Watch: Johnny cooks a sambocade from Neverwinter
D&Delicious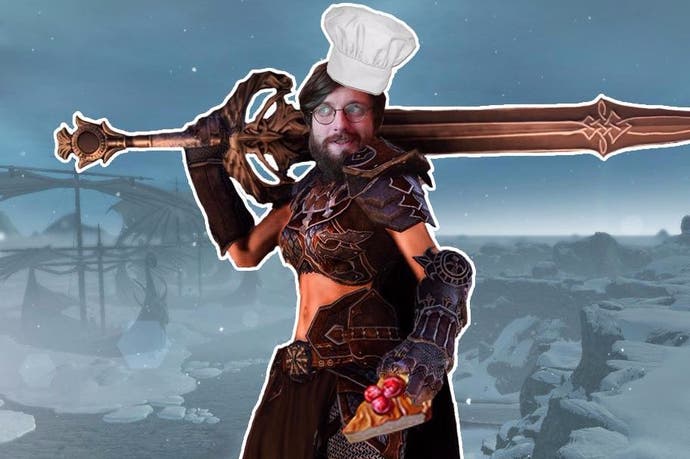 Sambocade is a type of cheesecake dating back to 14th Century England, so it should come as no surprise that it makes an appearance in Neverwinter, the Dungeons and Dragons MMO.
In Neverwinter, consuming some sambocade will grant you 5000 additional maximum hitpoints and 1000 additional movement for 1000 seconds. Inspired by these impressive stats, I decided to try and recreate it myself, though unfortunately I think the resulting cheesecake is more likely to slow you down than grant any additional movement.
Nonetheless, you can see my somewhat haphazard attempt to recreate the Neverwinter Sambocade in the video below. If you fancy trying it out for yourself, you can consult the recipe below that.
Sambocade recipe (adapted slightly from here)
Ingredients
225g shortcrust pastry
4 eggs
115g caster sugar
350g cream cheese
85g breadcrumbs
3 sprigs of elderberry flowers, or 1-2 tablespoons of elderflower cordial
berries to decorate
Method
Make shortcrust pastry following the method in this recipe, then bake blind in an oven for 10-15 minutes at 180 degrees.
Separate the eggs, then beat the yolks and caster sugar together until white and shiny. Gradually beat the cream cheese into this mixture, then add the breadcrumbs and stir well.
Add the elderberry flowers (taking care to remove the stems beforehand) or elderflower cordial.
Whisk the egg whites in a different bowl until stiff, then fold into the cream cheese mix. Spoon into the pastry case and bake in the oven for 45 minutes (or until golden brown).
Allow the cheesecake to cool, add berries to decorate, then serve.