Watch Dogs: Legion map - London landmark locations, plus map accuracy and boundaries explained
What can you visit in Ubisoft's near future version of London?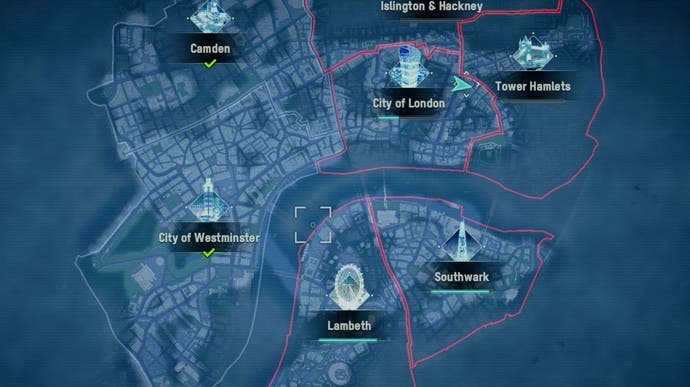 The map in Watch Dogs: Legion is the star of the show - a version of London that, despite being set in a cTOS-operated near-future, is surprisingly faithful in its recreation of several central boroughs.
This page explains the essentials - from its accuracy to map boundaries and limits - as well as where to find key landmarks in each borough.
On this page:
For more help with Watch Dogs: Legion, see our pages on drone locations, finding a Spy and Hitman, arrested and injured operatives, and using the camera.
What London areas are in Watch Dogs: Legion, what is the map boundary?
Watch Dogs: Legion is set in a near-future London, focusing on eight central boroughs. Here's how it looks in-game from the map screen (the top and bottom boroughs are slightly cut off, but you hopefully get the gist):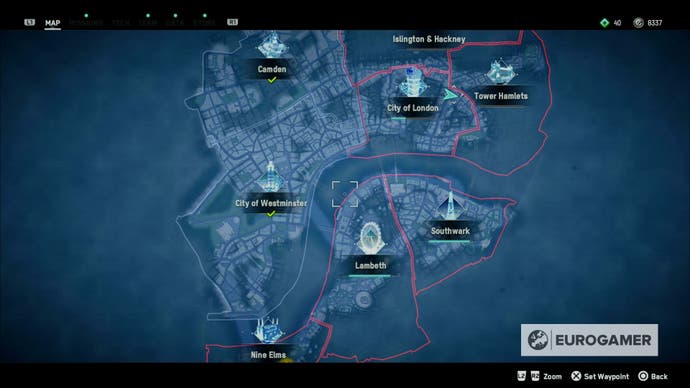 And here's the map shown a little clearer (thanks to slicshuter on reddit for the image, which is based on early live streams, but from our experience is pretty accurate):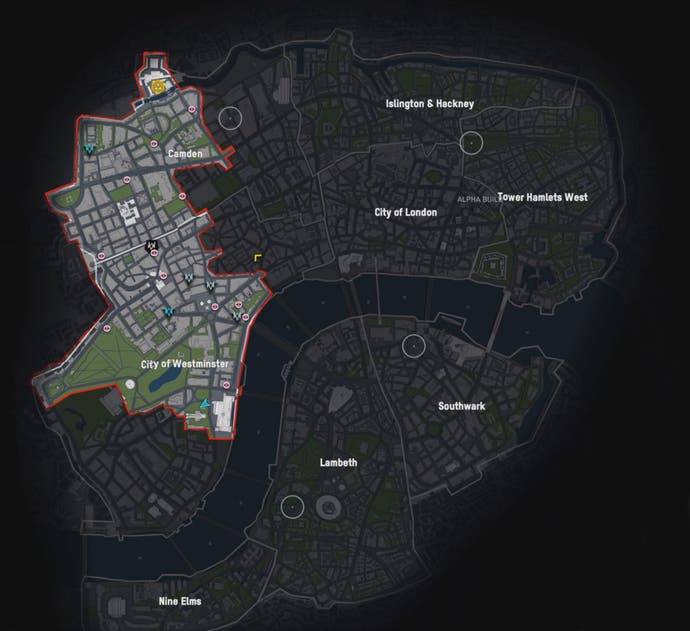 This means the majority of London's most iconic locations and landmarks are present, and are in their approximate real world locations.
In terms of boundaries, the London map mostly skews central. Broadly, it goes far as the following in each direction:
West: North of the river as far as Wellington Arch in Hyde Park Corner (where the streets to the north - including Paddington - aren't included, as further north it only goes as west as the edge of Oxford Circus) and Battersea Power Station south of the river
South: Battersea Power Station, then going east, Brixton to Southwark
East: Tower Bridge and Rotherhithe Docks south of the river, then Tower Hamlets and Wapping north of the river
North: Bethnal Green and Hackney Baths to the east, through to King's Cross Station and Camden Market in the north to north-west
So though it includes a lot of central London, those hoping to visit landmarks on the periphery - such as Royal Albert Hall to the west, or Greenwich to the east - will be disappointed.
That said, as a map in an open-world game it's still pretty sizable - and understandably the developer didn't want to bite off more than they could chew, so focusing on the most popular areas of London makes sense.
In terms of how it stops you when you reach the end of the map, though you can somewhat see into the distance (especially by drone) outside of the boundaries, when you attempt to go beyond them, a warning will pop up asking you to turn back.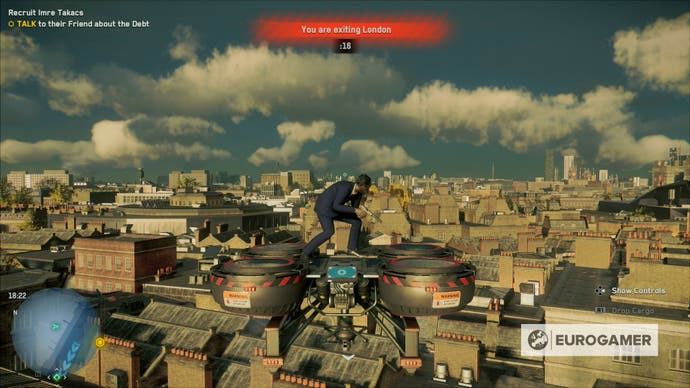 How accurate is the London map in Watch Dogs: Legion?
So though some of your favourite London locales might not be there, in terms of central locations, there's a lot in Watch Dogs: Legion - with many landmarks there intact and impressively recreated.
In terms of accuracy and scale, this map isn't one to one - it's an approximation, but one that, if you know central London well enough to navigate from landmark to landmark by road, you can do so easily, with only a few cuts taken.
For example, we got a little lost in the maze of Soho's streets as we attempted to go from Piccadilly Circus to Oxford Circus, while the walk from London Bridge through Borough Market to the Tate Modern skips a few streets - but the orientation, vibe and major landmarks are mostly all there, at least for central locations we were familiar with. It's pretty impressive.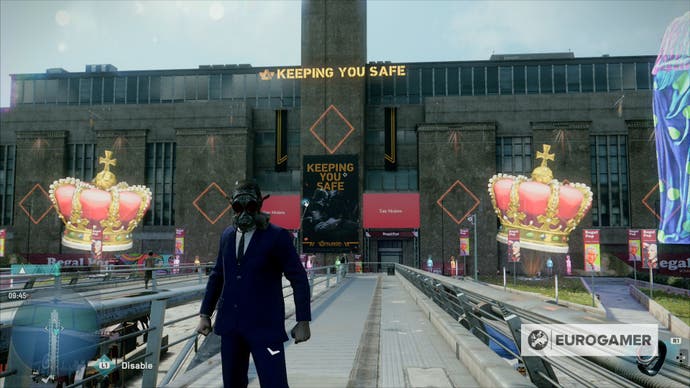 Also, while obviously the likes of M&M store just off Leicester Square and other minor points of interest aren't in the game, it does a good job of populating areas with similar feeling shops and outlets - for example, Leicester Square otherwise has a few cinemas, with one very similar to The Prince Charles just off to the north, with Chinatown just beyond that.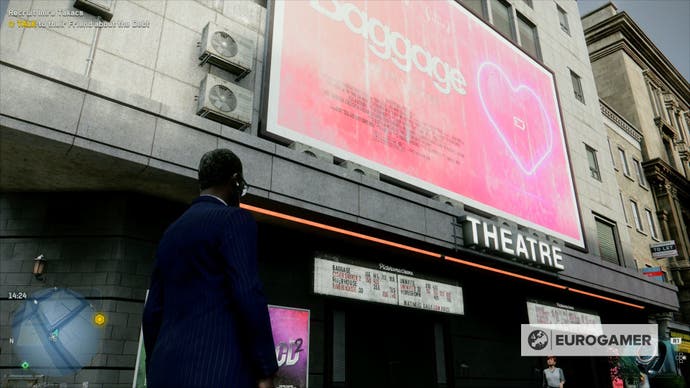 Finally, it's worth noting though many landmarks keep their original names (such as most galleries and museums) other locations, such as the Shard, have been given new names under the guise of strongholds held by in-game organisations.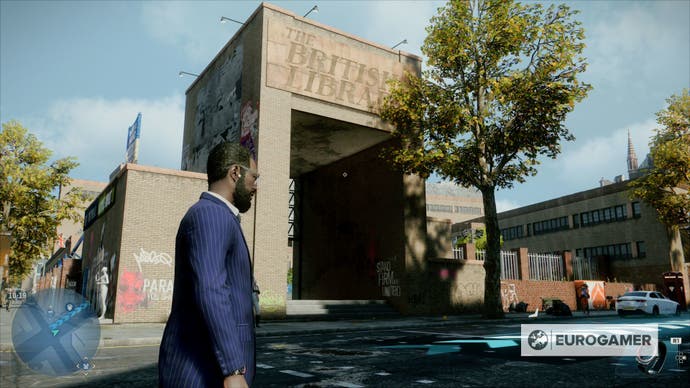 Watch Dogs: Legion landmarks list: Where to find Buckingham Palace, Covent Garden, Leicester Square, Piccadilly Circus and more
What follows is a list of landmarks you can find in the game, and the approximate positions they are found. It's not an exhaustive list - we might have missed a few off in our travels, and / or they have been given different names - but the good news is if you want to visit something prominent in central London, chances are it's there.
Also, note that although you are free to explore all of London's boroughs from the start of the game, areas are darkened until you get up close. That means you cannot use the map curser to know building names, so you must rely on their shapes to track down. This is, hopefully, where the following list comes in handy. Once you have visited an area, you can easily go back by using a nearby tube station, acting as a fast travel point.
| Landmark | | Location |
| --- | --- | --- |
| Admiralty Arch | | City of Westminster (north-east of Green Park) |
| Barbican Centre | | City of London, north |
| Battersea Power Station | | Nine Elms, west |
| Bethnal Green | | Tower Hamlets, north |
| BFI IMAX (The London Lens) | | Lambeth, north |
| Big Ben / Palace of Westminster | | City of Westminster, east (by the river) |
| Brixton | | Lambeth, south |
| Buckingham Palace | | City of Westminster, south-west (in middle of Green Park) |
| Camden Market | | Camden, north-west |
| Charing Cross Station | | City of Westminster, east (by the river) |
| Chinatown | | City of Westminster, north |
| City Hall | | Southwark, north |
| Covent Garden | | City of Westminster, north |
| Downing Street | | City of Westminster, central (east of Green Park) |
| Electric Avenue | | Lambeth, south |
| HMS Belfast | | Thames River, east |
| King's Cross Station | | Camden, north |
| Leather Lane | | Camden, east |
| Leicester Square | | City of Westminster, north |
| London Eye (Millennium Wheel) | | Lambeth, north (on the river) |
| MI-6 Building | | Lambeth, west (on the river) |
| New Scotland Yard | | City of Westminster, east (by the river) |
| OXO Tower (FLVR Restaurant) | | Lambeth, north |
| Piccadilly Circus | | City of Westminster, north |
| Regent Street | | City of Westminster, north (east to Piccadilly Circus) |
| Shakespeare's Globe (Bankside Playhouse) | | Southwark, north-west |
| Shard | | Southwark, east |
| Somerset House | | City of Westminster, north (by the river) |
| Southbank Centre | | Lambeth, north |
| Spitalfields Market | | Tower Hamlets, west |
| St. Pancreas International | | Camden, north |
| Tate Modern | | Southwark, north-west |
| The National Gallery | | City of Westminster, central (next to Trafalgar Square) |
| Tower Bridge | | Thames River, east |
| Tower of London | | City of London, east |
| Trafalgar Square | | City of Westminster, central (north-east of Green Park) |
| US Embassy | | Nine Elms, east (on the river) |
| Waterloo | | Lambeth, north |
| Wellington Arch | | City of Westminster, south-west (west of Green Mark) |
| Westminster Cathedral | | City of Westminster, south |
| Whitechapel | | Tower Hamlets, central |