Watch Dogs closed beta spotted for Xbox One
Maybe it will Aiden your purchase.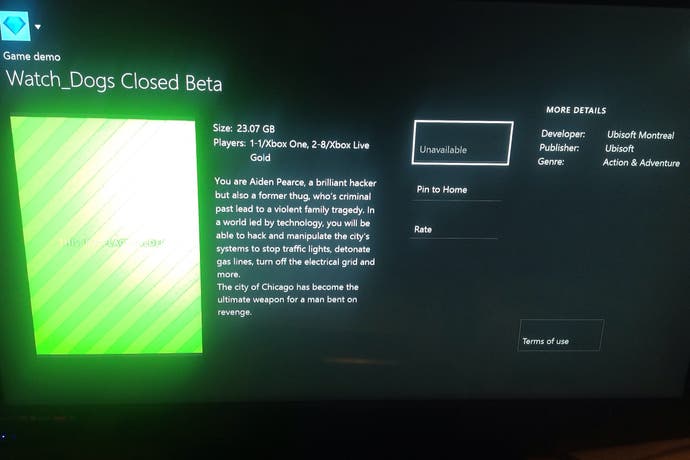 Ubisoft will hold a closed beta test for Watch Dogs, its upcoming sci-fi open world set to launch on 27th May.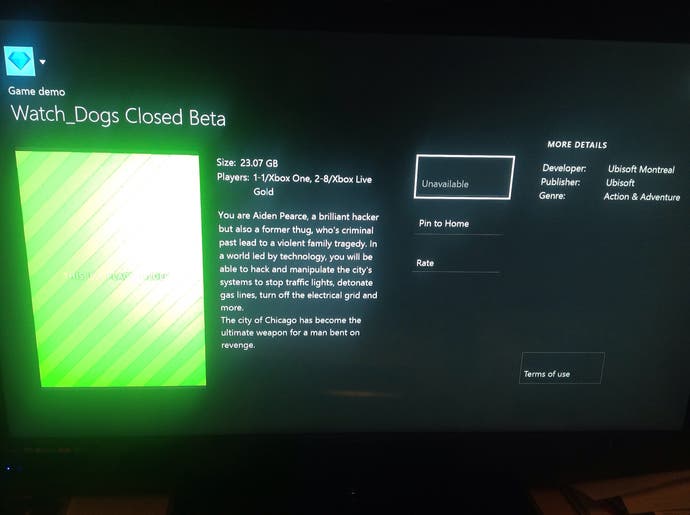 That's according to reports from people who spotted a now-removed Xbox One beta client for the game on the Xbox Games Store.
No release date for the beta was mentioned, or a method for registering interest.
An image of the download posted to Reddit shows that the file will weigh in at 23.07GB and support up to eight players via Xbox Live (thanks, Videogamer). A single-player option is also mentioned.
Watch Dogs includes a number of multiplayer modes where other players can pop up in your game - and vice versa. A full-blow free-roam mode is also on the cards, Ubisoft told Eurogamer at an event in Montreal last week.
"You are Aiden Pearce, a brilliant hacker but also a former thug, who's criminal past lead to a violent family tragedy," the listing reads.
"In a world led by technology, you will be able to hack and manipulate the city's systems to stop traffic lights, detonate gas lines, turn off the electrical grid and more. The city of Chicago has become the ultimate weapon for a man bent on revenge."
Ubisoft declined to comment on the existence of a beta when contacted by Eurogamer.