Warzone Season 2 Reloaded release time in UK / GMT, CEST, EDT and PDT
What to expect from the mid-season update.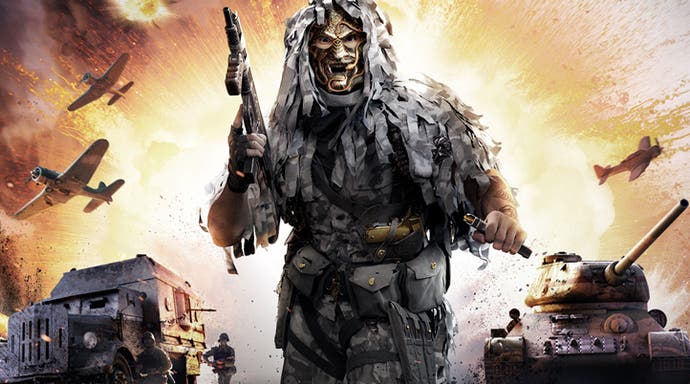 Season 2 Reloaded in Warzone Pacific is just around the corner - and with it a new mid season update with game modes and a a limited-time event.
The main focus will be a revamp of Rebirth Island, including new points of interest - as well as new modes, weapon blueprints and other additions.
Though this page focuses on Warzone, we'll briefly cover the tweaks and additions to Vanguard and Zombies as well.
This page outlines the Warzone Season 2 Reloaded release date and time and everything you have to look forward to during this mid-season update.
On this page:
When does Warzone Season 2 Reloaded start? Season 2 Reloaded release date in UK / GMT, CEST, EDT and PDT
The Warzone Pacific Season 2 Reloaded release date is Wednesday, March 23rd, with the update going live at the following release times:
UK: 4pm (GMT)
Europe: 5pm (CEST)
East Coast US: 12pm (EDT)
West Coast US: 9am (PDT)
For those looking for the Vanguard-specific additions, they will be going live 24 hours earlier, at the above times on Tuesday, March 22nd.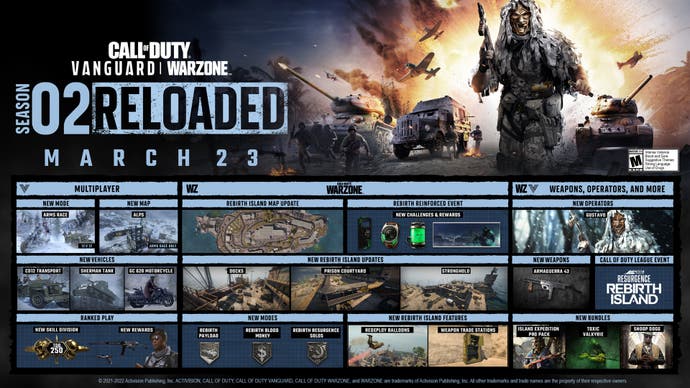 As per usual, be prepared for the above times to change in case there's any last minute changes or setbacks from the developer.
---
Warzone Season 5 is almost here! If you want to learn more about firepower from previously, we explain the best Welgun loadout, best Cooper Carbine loadout, best Gorenko Anti-Tank Rifle loadout, best STG44 loadout, best MP40 loadout, best Automaton loadout, best BAR loadout, best Combat Shotgun loadout, best Type 100 loadout, and best Kar98k loadouts.
---
What's new in the Season 2 Reloaded update in Warzone?
For Warzone Pacific, the main focus of the update is changes and additions to Rebirth Island - however, those who play on Caldera will also have plenty to look forward to.
In summary, the Warzone Pacific additions in Season 2 Reloaded include:
Rebirth Island Reinforced, introducing changes to existing points of interest (such as Stronghold) and a new one known as Dock, as well as sunnier skies to fight under
A Rebirth Reinforced Event, with Weapon Trade Stations and in-game events
Rebirth Island modes Payload, Blood Money and Resurgence Solos modes in weekly playlists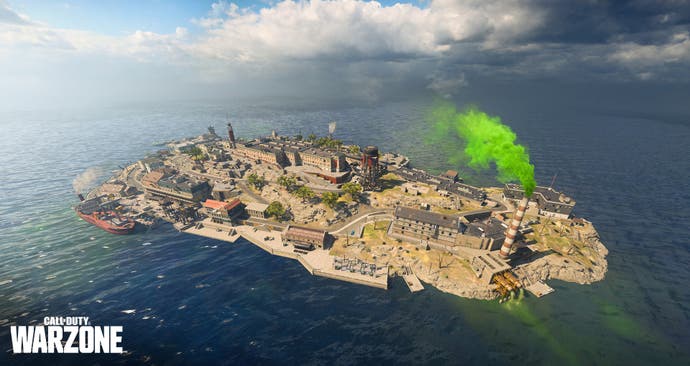 Gustavo Dos Santos, Island Expedition Pro, Boston Breach Team, Attack on Titan and Snoop Dogg Operator shop bundles
New weapon Armaguerra 43 SMG (in season)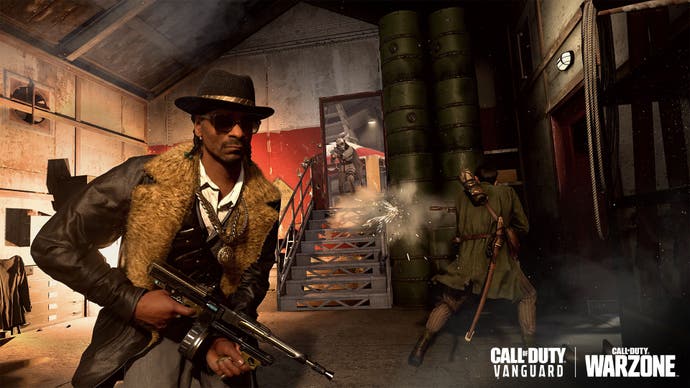 As well as the above, there are also new additions to Vanguard - includin a new 12v12 mode, Arms Race, taking place on Alps, a snow-covered mountainside with new vehicles to build, and the addition of the Top 250 Skill Division in Ranked Play and Ranked Play rewards - and in Zombies, two new Covenants.
Enjoy the rest of the season!