Warrior Epic & League of Legends
Diablo and DotA for the free-to-play generation?
League of Legends
Like Warrior Epic, League of Legends derives much of its DNA from Blizzard - but from a more divorced, yet much more specific route. Where Possibility Space takes a generous scoop of Diablo and drizzles it in World of Warcraft, Warcraft III and its own ideas, League of Legends is an explicit descendant of a single Warcraft III mod, the famous Defence of the Ancients - specifically, its DotA-Allstars variation. Ready for another pitch? "League of Legends is to DotA as WOW is to EverQuest."
It's not the only full-blown commercialisation of DotA in the works - the other being Gas Powered Games' Demigod. But League of Legends (yes, they really did go for the LOL acronym, more power to them) developer Riot boasts actual DotA alumni on its staff, not least lead designer Steve 'Guinsoo' Feak, the creator of DotA-Allstars. This time, he has some very professional help - artists and designers with the likes of Sucker Punch and Blizzard itself on their CVs.
As you'd expect (if you knew what I was talking about), League of Legends is a fast-paced, skirmish-focused hybrid of multiplayer action-RPG and base-capture RTS. You control a hero unit - sorry, Champion - which levels up over the course of a single match, customising its skills and equipment on the fly, and working with other players and AI minions to dominate the enemy's control points one by one.
Once again, bold and bright maps viewed top-down are the order of the day, as are colourful characters: the Yeti Rider, an Eskimo kid chucking snowballs from his monstrous mount's shoulders; the Dark Child, a sinister Tim Burton-esque waif who summons an evil teddy bear; the Wuju Bladesman, gangling refugee of seventies kung fu cinema. In order to give the game the persistence that online gamers of all stripes demand now, these Champions are tied together by a Summoner, your actual player character, who can be customised and levelled up in a way that will give your Champions an edge in battle.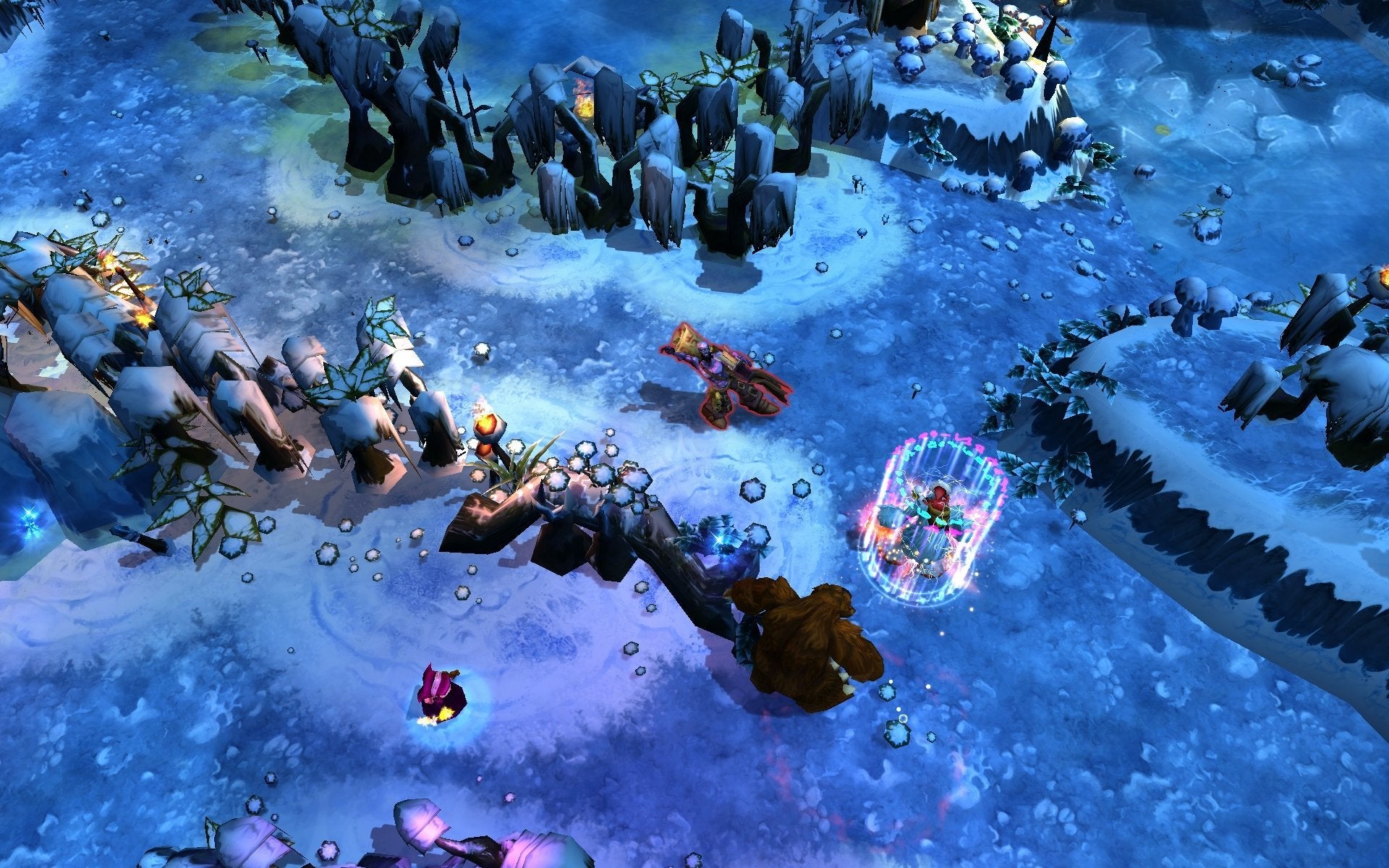 League of Legends is not, frankly, as polished on the surface as its stable-mate Warrior Epic or its rival Demigod. Its interface in particular could use work, being neither pretty nor functional enough to excuse faults on the other side. And although its cartoon style is attractive enough and the Champions have plenty of personality, the art lacks Warrior Epic's striking presence - it's all a bit Crash-Bandicoot-goes-to-Azeroth.
But this is a different world, a world where multiplayer balance and word-of-mouth count for a lot more than slick presentation. Demigod may have bigger names and more muscle behind it, but if League of Legends is faster and better-tuned then it stands a good chance of being able to carry the DotA community with it - a huge gaming subculture that's sat somewhere just under publishers' radar until now. Signs from our playtest were good, with the match developing an exciting ebb and flow, every would-be victorious charge suddenly finding itself on the tipping-point.
It's more of a concern whether League of Legends will ever be able to break out of its peculiar subculture. The last piece of the puzzle will be how the game is monetised - it's not yet clear whether it will be download-only, a boxed product, or funded by subscription or micro-transaction. Any one of these options has the potential to invite one audience and alienate another, so Riot and GOA will have to choose carefully.
League of Legends has no release date as yet.
Become a Eurogamer subscriber and get your first month for £1
Get your first month for £1 (normally £3.99) when you buy a Standard Eurogamer subscription. Enjoy ad-free browsing, merch discounts, our monthly letter from the editor, and show your support with a supporter-exclusive comment flair!