Warhammer: Chaosbane gameplay looks a lot like Diablo
Hack and smash.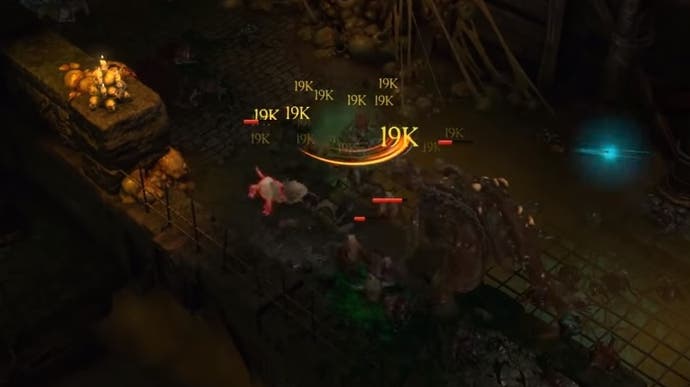 The developers of Warhammer: Chaosbane have put out its first gameplay video - and it looks a lot like Warhammer does Diablo.
Chaosbane is an action RPG based on the Warhammer fantasy world. It's set in the middle of Old World history, and you can play as a human, a high elf, a wood elf or a dwarf in locations such as the cursed city of Praag and Nuln, the old capital of the Empire.
The video, below, shows Chaosbane has all the action RPG user interface tropes present and correct. It shows a quest set in the sewers of Nuln, the current Imperial capital, which is invested with servants of the god Nurgle.
The gameplay begins with the player using the captain of the Empire class, who is "strong and tenacious" - an ideal character if you enjoy melee combat. He does a lot of damage and is good for crowd control.
Eventually he's joined by a local co-op friend, a high elf mage. The high elf does a lot of damage at a distance but is weak in melee combat. He can control the placement of spells and redirect them at will.
The quest culminates with a boss fight against a Mutalith Vortex beast. Here we see the players activate Bloodlust, a skill that gives you extra speed and new skills for a period of time.
I think Chaosbane looks promising, although the impact of melee and spells could do with a little more oomph. Blizzard's Diablo feels like it packs a real punch, but Chaosbane looks a little floaty to me.
Still, I like the dank and dingy atmosphere and I'm a big fan of the Plague Lord and his many minions. I'm looking forward to seeing gameplay of the other two classes!
Warhammer: Chaosbane is developed by Eko Software, the French studio behind the hack and slash games How to Survive, and published by Bigben Interactive, the company behind Warhammer 40,000: Inquisitor - Martyr. Expect a release on PC and console.