Warhammer 40K: Darktide gets Xbox Series X/S delay as dev admits it "fell short" of expectations
New focus will be addressing player feedback.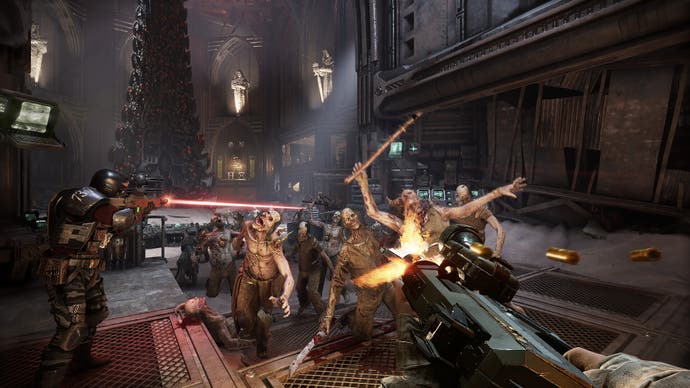 Developer Fatshark has delayed Warhammer 40,000: Darktide's upcoming Xbox Series X/S release, saying it has made the decision to spend the next few months solely addressing fan feedback after the game "fell short" of expectations.
When Darktide launched on PC in November, Eurogamer's Chris Tapsell applauded its "stupendous atmosphere and vicious action" in his review, but called its release "scrappy [and] rickety...arriving with bugs and technical difficulties and making huge demands of PCs".
Issues around Darktide's launch have coalesced to the point it's now accrued a damning 'mostly negative' recent reviews rating on Steam from nearly 8,500 players, and Fatshark has moved to acknowledge the community's mounting frustration in a statement shared on Twitter.
"We take enormous pride in our ability at Fatshark to deliver a game that millions can enjoy," the developer wrote. "This was what we set out to do with Warhammer 40,000: Darktide - to create a highly engaging and stable game with a level of depth that keeps you playing for weeks, not hours. We fell short of meeting those expectations."
In an effort to improve Darktide's current state, Fatshark says, "Over the next few months, our sole focus is to address the feedback that many of you have. In particular, we will focus on delivering a complete crafting system, a more rewarding progression loop, and continue to work on game stability and performance optimisations."
That shift in focus means Fatshark will delay Darktide's long-promised Xbox Series X/S release - which was initially due to arrive "shortly after" the PC version - as well as new seasonal content. Additionally, all new premium cosmetic releases will be suspended. "We just couldn't continue down this path," the developer explained, "knowing that we have not addressed many feedback areas in the game today".
"Thank you for playing and providing feedback," Fatshark's statement concludes. "We really appreciate it. It has and will continue to help shape the game we love."