Warframe's big Gas City remaster update is out next week on PC, consoles "soon"
UPDATE: Out now on PC!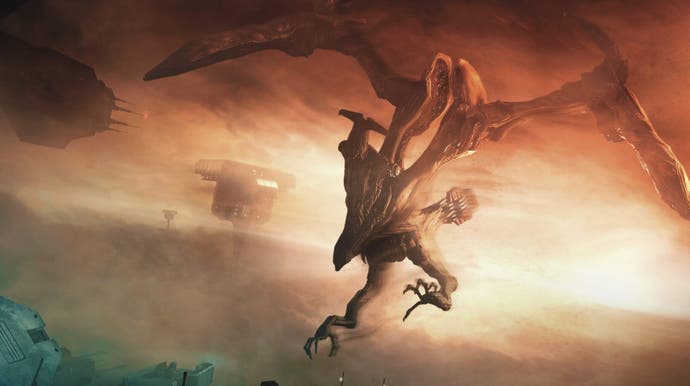 UPDATE 22/5/19: Warframe's fancy-pants Jovian Concord update, which introduces a stunning overhaul of the game's ageing, Jupiter-bound Gas City area, as well as new enemies, weapons, mods, cosmetics, and modes, is out now on PC.
Those that fire up the game post-update can also gain access to Wisp, the new Ethereal Warframe (taking the total number of Warframes up to 40, if you're counting), and all that gets a good airing in developer Digital Extremes' flash new Jovian Concord launch trailer below:
There's no set release date for the Jovian Concord's delights on Xbox One, PlayStation 4, and Switch, but Digital Extremes says that it's coming "soon".
---
ORIGINAL STORY 17/5/19: Warframe's big The Jovian Concord update, which introduces a full revamp of the game's ageing Gas City area, will release next week on PC, and developer Digital Extremes has shared more details ahead of its arrival.
The Jovian Concord's headline addition is, of course, that stunning Gas City redesign - which introduces massive visual and audio improvements, and dramatically increased diversity to the tile set used to procedurally assemble Jupiter's Gas City levels. Digital Extremes says these new elements have been specifically created with Warframe's modern parkour movement in mind.
When the doors open on Warframe's new-look Jovian Concord next week, Tenno brave enough to venture within will also encounter a number of new adversaries. There are nightmarish Corpus and Sentient hybrids known as Amalgams, and a giant winged boss called the Ropalolyst, unlocked by completing the Chimera Prologue mission.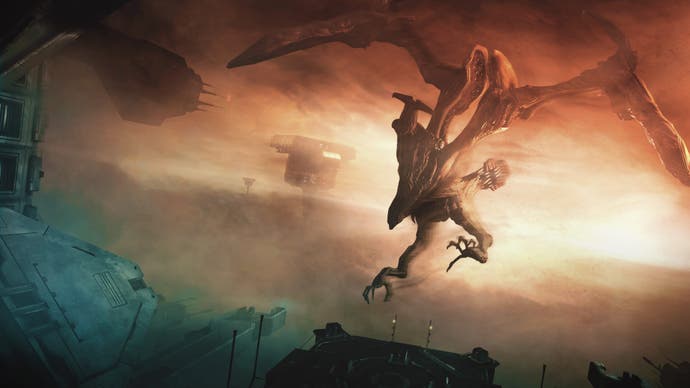 The reinvigorated Jupiter will also play host to a new game mode known as Disruption. "Collect keys from fallen Amalgams to activate corresponding conduits," explains Digital Extremes, "then protect the conduits from the Demolysts that will try to destroy them. Each conduit will trigger a random player boon, environmental hazard or enemy buff. Test your strength against the Amalgams to earn new Weapons and new Mods."
Disruption will be introduced to Warframe via a new Clan Operation, and players will need to have completed the Natah Quest to access it.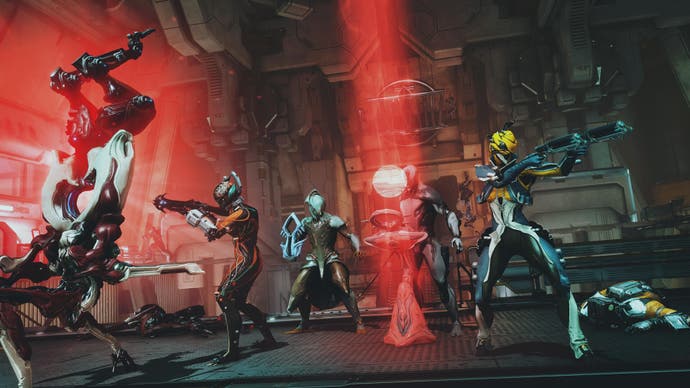 The Jovian Concord also ushers in Wisp, the game's 40th Warframe. Wisp is known as the Ethereal Warframe and can be earned by besting the fearsome Ropalolyst in battle. Succeed and you'll be granted access to Wisp's distinctive powers.
These include Reservoirs, which can be filled to imbue Wisp and her allies with increased movement and attack speed, or to stun nearby enemies, or to increase maximum health and heal over time - depending on the contents of the Reservoir.
Then there's Wil-o-wisp, which conjures a spectral image of Wisp to confuse and distract enemies, with players also able to teleport to the illusion's position. Breach Surge, meanwhile, opens a dimensional breach to overwhelm nearby enemies, while Sol Gate opens a portal to the sun, unleashing a powerful beam of pure solar plasma. Lastly, there's the passive ability Phased, which enables Wisp to appear as invisible to enemies for a short while.
Rounding off The Jovian Concord are a whole range of new weapons, mods, and cosmetics, which are detailed more thoroughly in Digital Extremes' announcement post. The developer also notes that console players can expect to see the free update "soon".