Warframe dev insists it will remain "creatively independent" after Tencent buyout
Guns out.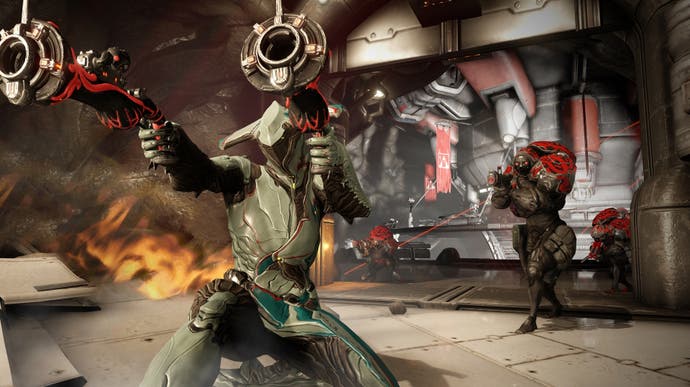 The developer of Warframe has moved to reassure fans after it was bought by Tencent.
In 2014, Hong Kong video game company Leyou bought majority shares in Digital Extremes. Now, Tencent has bought Leyou, making the Chinese megacorp Digital Extremes' parent company.
"We will remain creatively independent, we expect no changes to Warframe or how our studio operates, and we will remain as dedicated ever to you, the community, who has been with us every step of the way since we launched Warframe," Digital Extremes said in a message to players published on its website.
Tencent is the world's largest video game company in terms of revenue, with significant stakes in a number of western video game publishers, such as League of Legends maker Riot, Clash of Clans studio Supercell, and Fortnite developer Epic Games.
It has been the subject of controversy over the years, with its influence questioned. In October 2019, Blizzard came under fire for banning and revoking the prize money of Hong Kong Hearthstone tournament winner Ng Wai Chung, aka Blitzchung, who used his post-match victory interview to issue a statement of support for Hong Kong protestors. In the face of a public backlash, Blizzard eventually partially rescinded the punishment. Tencent has a five per cent stake in Activision Blizzard.
"Our focus will remain on listening to you, our community, upgrading Warframe based on your feedback, and developing the kind of great stories, gameplay, and incredible new space ninja action you've come to expect from us," Digital Extremes stressed.
"Tencent is well known for respecting the creative decisions and integrity of its studios, and for giving them the autonomy and independence to experiment, innovate and thrive."
Digital Extremes said Warframe's development team is still in charge of the game's direction, and its creative goals remain focused on expanding the next-gen consoles version and more content.