Wadjet Eye's acclaimed urban fantasy adventure Unavowed is now on Switch
And there's 10% off until next week.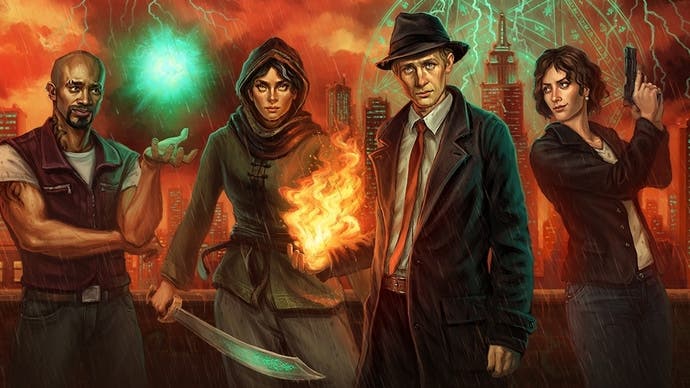 Switch owners with a taste for cracking yarns, urban fantasy, and a smattering of demonic possession have a bit of a treat in store; developer Wadjet Eye's superb point-and-click adventure Unavowed is available on Nintendo's platform from today.
Unavowed - which is the work of Dave Gilbert, the designer behind Wadjet Eye's renowned Blackwell series - was enormously well-received when it released on PC back in 2018, receiving much acclaim for its ambitious structure and wonderfully compelling storyline.
It sees players taking on the role of a (somewhat definable) character who's spent the last year terrorising New York City in a demonically possessed frenzy - and who now, after intervention from a crack team of supernatural specialists, finds themselves in the employ of an ancient, evil-battling secret society and ready to put their recent mistakes right.
The ensuing adventure is an irresistibly pacy, wonderfully written, and surprisingly ambitious urban fantasy thriller, offering an impressive degree of flexibility in how the branching story unfolds. For starters, players can choose from one of three backstories, each impacting how they'll be able to approach events in their new paranormal investigator role. As an actor, for instance, they'll be able to lie convincingly in order to get characters to do their bidding, while the bartender is able to quickly get others to open up and reveal important information.
Boosting replayability further, Unavowed includes four diverse companion characters that can accompany players on their adventures. However, only two can be picked to join their party at the start of each chapter, and that selection can have a significant effect on how each episode plays out, altering the mood, narrative events, even the puzzles players will need to solve.
I absolutely loved Unavowed on PC, and enough time has passed that I'm pretty excited to return to it again on Switch and rediscover its delights anew. And if you're also intrigued, Unavowed costs £13.49/$14.99 USD on Nintendo's eShop - with 10% off until 14th July.