Virtual Console Roundup
Paradroid, Burning Fight, Pokemon Puzzle League and Samurai Shodown.
Pokemon Puzzle League
Platform: N64
Wii Points: 1000
In Real Money: GBP 7.00 / EUR 10.00 (approx)
I said I'd find something to grumble about, and here it is. Not the game itself, which is actually one of the better block-matching puzzlers, but the peculiar timing with which Nintendo has released it.
You see, May has already seen the release of Puyo Puyo 2 on the Megadrive and the revamped Dr Mario on WiiWare. These games may not be exactly the same as Pokemon Puzzle League (or Panel de Pon, the Japanese puzzle game it's rebranded from) but they're close enough that anyone in the market for such a game will surely be feeling somewhat fatigued by now. How many block-swapping games does the average person even want or need?
And this is to the detriment of Pokemon Puzzle League, since I prefer it to both Puyo Puyo and Dr Mario. The basic premise - matching horizontal or vertical rows of the same colour to dump blocks on your opponent - remains constant but you're only able to swap blocks left or right. Sort of like Puzzle Quest, only with a more limited range of moves available. At first this restriction feels claustrophobic, and frustrating as potential lines seem out of reach because you can't move blocks up or down. Once you get past that, you realise that there are actually a whole heap of strategies available to you, and before long you're shuttling blocks across the screen, dropping them from the top of columns and clocking up chains and combos galore.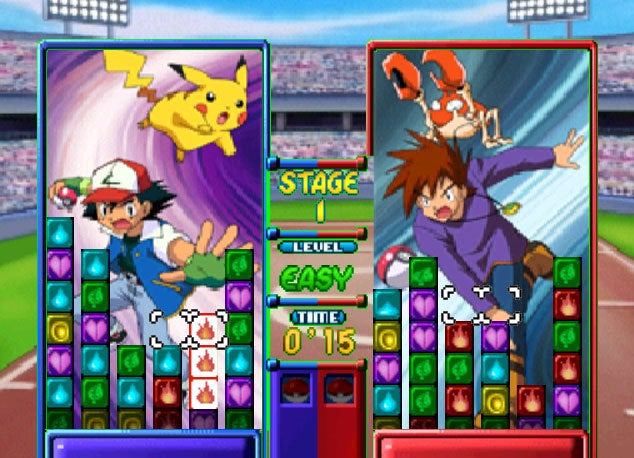 If there's one persistent complaint it's that the Pokemon façade is just that - a thin veneer slapped on top of an existing framework with no real purpose. You choose from different trainers and Pokemon for each round, but this has no impact on the gameplay whatsoever. Different character choices don't result in different block patterns, and while you win badges for victory, these have no practical use either. There are clips from the TV cartoon, revoiced or with retouched text to make them tie in with the game, but it's hardly convincing.
It's a lazy and rather cynical attempt to use Pokemon to shift a few more games then, but this is balanced out by an abundance of options including plenty of gameplay modes, a puzzle editor and a 3D version of the game in which the blocks ascend up the sides of a transparent cylinder.
8/10
Samurai Shodown
Platform: NeoGeo
Wii Points: 900
In Real Money: GBP 6.30 / EUR 9 (approx)
It was only a matter of time before SNK's other big fighting franchise joined the likes of King of Fighters on the VC, and it holds its own surprisingly well considering how many other 2D fighting games are already available.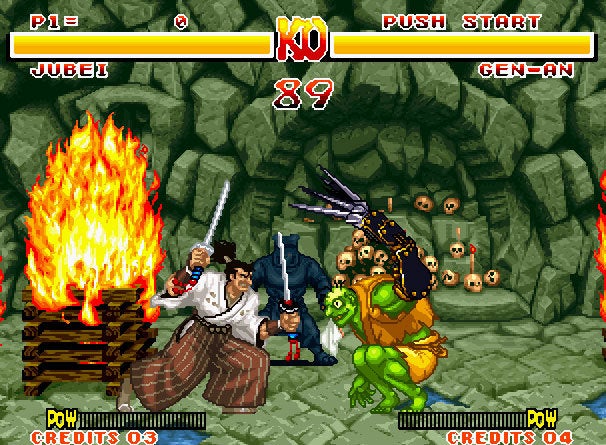 Blessed with the large, colourful, arcade-perfect sprites that the Neo Geo promised, Samurai Shodown ditches the complex combo-based fighting of Street Fighter and others and instead opts for a system that places the emphasis on fast, effective strikes and smart timing. Needless to say, this makes it much easier to get into, since you don't have to have memorised the move lists in order to really enjoy yourself.
There are also some quirky little touches, like the man who throws chickens and other items into the arena to help the fighters. The character roster is rich and varied, ranging from the gigantic Earthquake to the green-skinned Freddy-gloved Gen An. Environments are colourful and agreeably interactive, shown off by the dynamic camera system from Art of Fighting. You can even have your weapon knocked from your grasp, forcing you to fight on with your bare hands.
It's a meaty and immediately appealing fighting game that finds a fine balance between accessibility and depth. It's one of my favourite old school fighters, and the only reason it doesn't score higher is because I'm sure the sequels will be joining it on the VC before long.
8/10
Will you support Eurogamer?
We want to make Eurogamer better, and that means better for our readers - not for algorithms. You can help! Become a supporter of Eurogamer and you can view the site completely ad-free, as well as gaining exclusive access to articles, podcasts and conversations that will bring you closer to the team, the stories, and the games we all love. Subscriptions start at £3.99 / $4.99 per month.