Valve to send actual Dota 2 The International trophies to Compendium ultra hardcore
But you'll need a level 1000 Compendium to get it.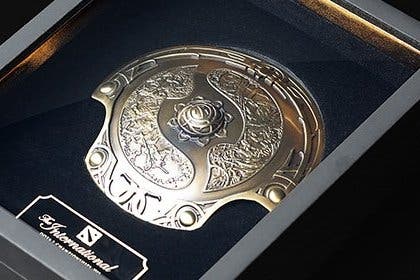 Valve will send actual The International trophies to some of the most hardcore Dota 2 Compendium players.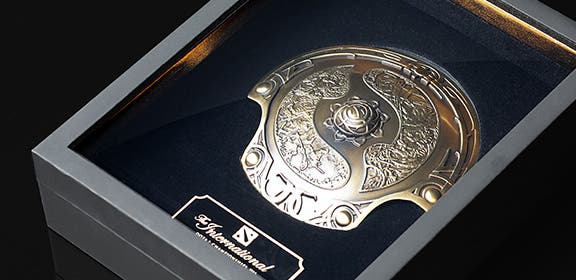 The Collector's Aegis is a 1/5th scale alloy replica, with antique brass plating, of the winner's trophy at The International. The year is inscribed on the back, and there's a gold finished insignia signifying this year's theme. Plus, when in a Dota 2 match, the Aegis of Champions in the player's fountain will have a special glow effect that lasts until the next International.
It's a coveted item - but Valve will send it only to those whose Compendium Level has reached 1000 - no mean feat.
The Dota Compendium is an interactive digital tournament companion that Valve sells for £6.69, and 25 per cent of all Compendium sales go to The International overall prize pool, which is already over $15m.
Increasing your Compendium level earns you additional Immortal items, new emoticons, loading screens, new ability effects, hero taunts and other gubbins. Here's the thing, while you gain a level for every 100 points added to your Compendium, you can also buy Compendium Levels directly for real cash. Five levels costs $2.49, 11 levels costs $4.99 and 24 levels costs $9.99.
From a standing start, you'd have to spend a lot of money to reach level 1000. You can buy a Compendium that starts at level 50 for $26.99. Then, you could fork out $400 for 40 '24 level packs'. So you're looking at just shy of $427 for the trophy. From a standing start.
Of course, the trophy is more for those who invested heavily in the Compendium from its launch and are already at level 1000 or nearly there already. And it's worth stressing that leveling up your Compendium gets players lots of cool stuff to use in-game.
If you have a Level 1000 compendium by the end of the Grand Finals, you can fill in your shipping information on this website.
Meanwhile, The International 2015 is already the biggest event in Dota's history and carries the biggest prize pool ever in eSports. The action kicks off 3rd August.