Valve renames Artifact card accused of being racist
Crack the Whip now Coordinated Assault.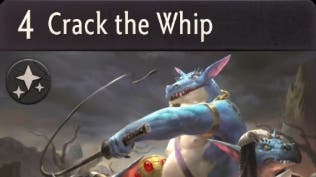 Valve has renamed an Artifact card after it was accused of being racist.
Valve tweeted to reveal a card called Crack the Whip, which depicts a blue lizard creature wielding a whip on a battlefield.
This card packs a big punch immediately and then keeps on punching. When you play Crack the Whip, it triggers once right after it's played. If you play an Untested Grunt next to the whipped hero it will trigger again, and the Grunt will receive the bonus. pic.twitter.com/qXflFpdOZb

— Artifact (@PlayArtifact) September 26, 2018
The card's text reads: "Modify a black hero with 'After you play a black card, give this hero and its allied neighbours +2 Attack this round'."
Artifact, a Dota 2-inspired virtual card game due out in November 2018, groups cards of the same theme by colour. There are four colour themes: red, green, black and blue, and each has its own unique effects on the board.
The use of the word black here, combined with the name of the card, Crack the Whip, sparked a negative reaction on social media and on forums, with some wincing at the prospect of associated memes on Twitch chat when the game comes out.
Suggestion: You should REALLY change the name of this card. Having a card called "Crack the Whip" that says it modifies black heroes is not a good look, especially out of context. May I suggest something like "Intense Training"?

— Matt Frazier - see pinned tweet for other places (@MattFrasche) September 28, 2018
@HavocVulture @MrMooEar the card mechanically is fine but yes, the pairing of "black" with "whip" can be easily misinterpreted/misrepresented and judging the Twitch chat/gamer culture, will definitely be used inappropriately

— Kade (@_KOL2) September 28, 2018
And so, Valve has changed the name. Two days after it tweeted the Crack the Whip card, it tweeted to say it had been renamed Coordinated Assault.
Crack the Whip has been renamed to Coordinated Assault.

— Artifact (@PlayArtifact) September 28, 2018
It's hard to imagine how this card as it was presented by Valve on Twitter slipped through the company's sense check net, and Valve has yet to explain itself. But it's good to see Valve react swiftly to feedback nonetheless.