Valve adds Rick May memorial statues to Team Fortress 2
Salute.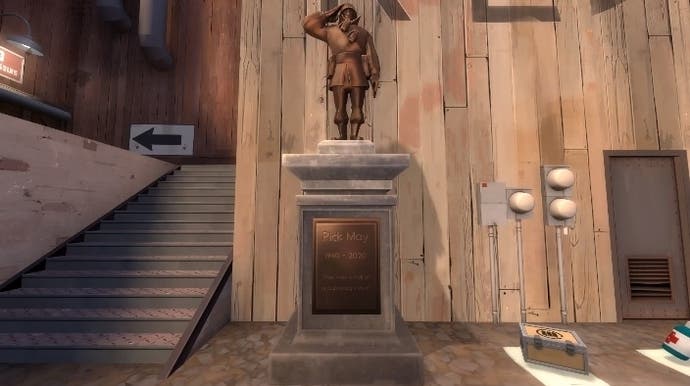 Valve has added a tribute to Rick May, the voice of the Soldier, inside Team Fortress 2.
May, who was also the voice actor behind Star Fox's Peppy and his iconic "Do a barrel roll" line in Star Fox 64, passed away aged 79 earlier in April after contracting coronavirus. In February of this year May suffered a stroke and entered a nursing home.
Valve's understated patch notes for its Team Fortress 2 update stated: "Added a tribute to Rick May, voice of the Soldier." But players have found this tribute is fairly extensive, with the main menu given over to Soldier, and memorial statues in the maps. Additionally, players have reported that players near these statues will hear various Soldier lines.
It's a lovely tribute to May, who as well as providing Soldier's voice in Team Fortress 2 and its accompanying short films voiced characters in Sly 3: Honor Among Thieves, Freddi Fish 5, and Age of Empires 2: Definitive Edition.