Valkyria Chronicles
Brushed with greatness.
Your soldiers will open fire if they spot a bad guy during the enemy turn, but not actually check that their line of sight is clear. Having an enemy break through your lines because your line of defence was too busy shooting a wall as they ran past is frustratingly common. And then there's the strangely inconsistent damage model, with splash damage from explosions proving particularly flaky. Sometimes this works in your favour - magically shielding one of your soldiers from harm - but it's incredibly annoying to waste both Action and Command Points on a grenade attack that seems to have no effect.
The game often seems too rigidly tied to its rock-paper-scissors attack formula, since a tank shell needs to hit a soldier dead centre to cause any damage purely because it's meant for other tanks, yet a mortar shell landing in the exact same place can kill several soldiers at once. Grenades can bring down a wall, or explode impotently, depending on a difference of just a few pixels. Rushing an enemy with a machine-gun will see your character cut down with cruel efficiency, yet the same tactic works all too well against Lancers or Snipers. Armed with long range weapons, they simply don't react at all to close range incursions and stand there impassively, mindlessly taking round after round in the face until they drop dead. Again, this can be hugely beneficial or massively annoying depending on whether you're the one doing the shooting.
The cover system needs work as well, allowing you to crouch behind piles of sandbags or in trenches, but not offering the same protection when standing next to what would seem to be equally effective sources of protection. Why can't you duck behind a stone bench, for example? Or that pile of crates? Or that low wall? Or all the other environmental details littering the otherwise well designed levels? You simply can't, and must instead leave your character standing and exposed, or use up another Command Point to move them somewhere safer. When only the scout class has any real movement range, this inexplicably fussy distinction between useful cover and non-interactive scenery can prove very irritating.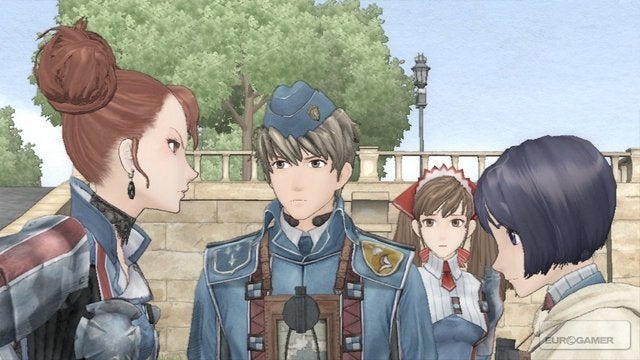 This shortlist of fairly fundamental flaws is sadly just enough to prevent the game from reaching the upper echelons of greatness. It's absolutely stunning, visually speaking, with a lovely sketchy watercolour Miyazaki style that looks breathtaking in HD. The music, by Final Fantasy Tactics composer Hitoshi Sakimoto, is of a similarly high standard, alternating between martial urgency and plaintive themes with confident grace. The story is witty and well told, while the characters are memorable and blessed with surprisingly good voice acting. There's so much to praise that it feels churlish to dwell on the negatives, yet there they are - and they're so inextricably linked to the core of the gameplay that they can't help but tarnish an otherwise wonderful game.
Make no mistake, Valkyria Chronicles is a really, really, really good tactical RPG, and fans of the genre should pick it up without delay, but beneath the inviting exterior and thoughtfully designed battle system lies a game with a few too many clunky inconsistencies which directly impact the strategic heart of the experience.
Will you support Eurogamer?
We want to make Eurogamer better, and that means better for our readers - not for algorithms. You can help! Become a supporter of Eurogamer and you can view the site completely ad-free, as well as gaining exclusive access to articles, podcasts and conversations that will bring you closer to the team, the stories, and the games we all love. Subscriptions start at £3.99 / $4.99 per month.