Uncharted 2: Among Thieves
Naughty Dog has its day.
Drake was always a very rounded person, largely thanks to North, whose light touch is always perfectly mapped to the emotional contours of the game's peerless in-engine story sequences, but he is now a much more rounded videogame character. As well as crawling and leaping between foot and handholds, swinging from ropes and bars and moving intuitively between cover points firing pistols, shotguns, rifles and other weapons, he can also fire one-handed while dangling, and employ a range of stealth takedowns, lurking behind walls and hanging from ledges to haul enemies into long drops or immobilise them with choke-holds.
Naughty Dog is shrewd throughout, reducing complex actions to a single button in most cases, explaining the context of each with a little drop of Drake's shoulder, or directing your attention to the way forward with flickering spot-lights or a change of colour. There's almost no need for intrusive signposting, although the game has optional hints that pop up if your movements betray any confusion. The routing is linear but lively, pipes breaking away from their bindings under Drake's weight, which opens up slight detours, while Drake's own movements suggest a man permanently clawing for purchase at the outer reaches of his capabilities, in diametric opposition to their delightful simplicity from your perspective.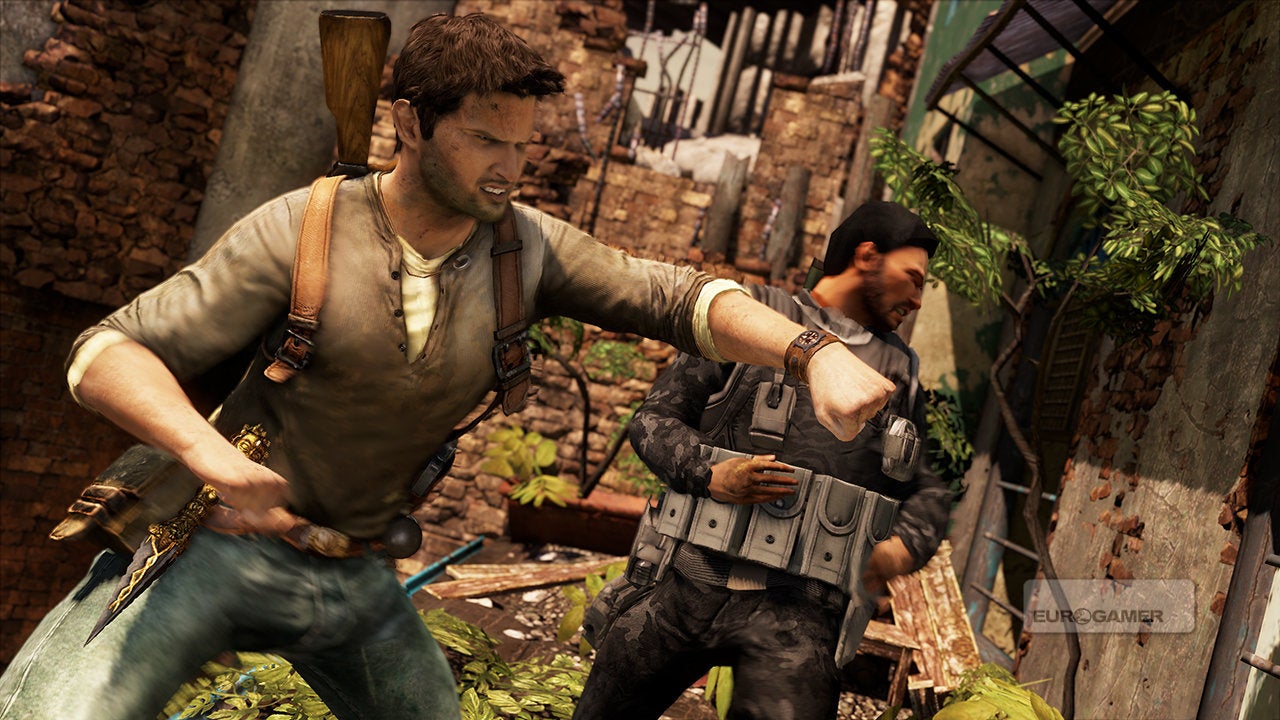 While one or more of Chloe, Elena and shifty Englishman Harry Flynn are directly involved in the action for the majority of the game, their presence is so seldom disruptive that the two occasions it crosses the line are as jarring as they are ultimately irrelevant to the whole. The supporting cast also allows for more storytelling throughout rather than simply in cut-scenes, and actresses Claudia Black (Chloe) and Emily Rose (Elena) are as well-cast as North, while the opposition front-men are suitably bad and evil.
There are a few shades of grey on the road to Shambhala, but no more so than in films like Indiana Jones, which are derived from the same 1930s serials that lurk in the Uncharted games' own genetic ancestry. Uncharted 2's subtitle is Among Thieves, a reference to Drake's own conflict over the path he's taken and the universe it commits him to inhabit, but apart from a few swearwords and occasional stabs of PG romance this is a simple tale of heroes and villains that any child could understand. Far from a criticism though, it's further evidence of Naughty Dog's considerable wisdom: wit and mystery perfectly pitched for maximum accessibility.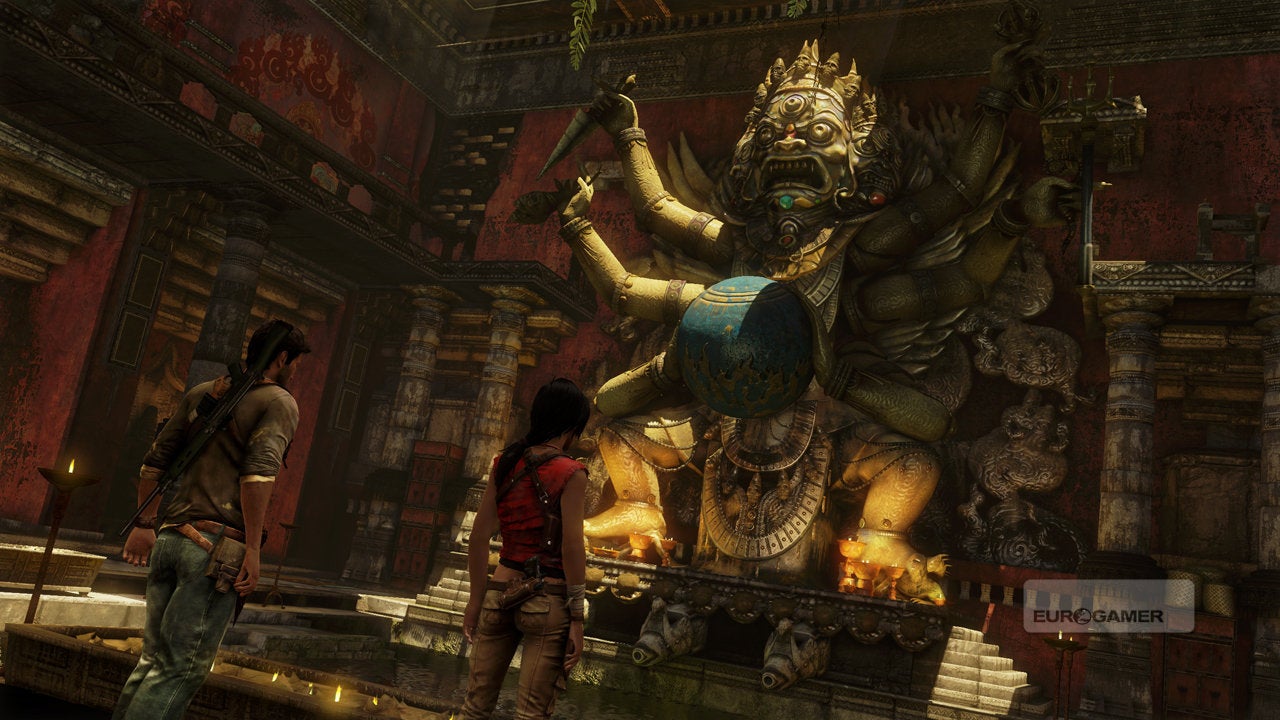 That mystery, once illuminated by the lost writings of Marco Polo, flares to life through restrained exposition and underpins the game's puzzles, which continue to rely on your reading of Drake's journal. There's less mechanical invention here than in the game's imaginative cross-country train sequence or a final act with a touch of the 1925 Lost World about it, but there's reasonable satisfaction to be had unlocking the entrance to an underground temple by reconfiguring a Buddhist monument, or rotating gigantic tumblers in a sunken ice fortress, and more importantly the circumstances of each brainteaser are infused with the right level of urgency and a convincing sense that only Drake, through his actions and acquisitions, could be in a position to solve challenges of the ancients left in plain sight for so many centuries.
The way Uncharted 2 unites its platform and action sequences is often its greatest strength, escaping the repetitive pattern of discrete alternating sequences in Drake's Fortune - and helping to manoeuvre the action between diverse locations in the process, which was another sticking point two years ago. With that said, more and more of the former creeps back into the game as it moves toward its conclusion, to the point that it's sometimes reliant on North and the Shambhala mystery to carry you past gratuitous fight sequences.
Will you support Eurogamer?
We want to make Eurogamer better, and that means better for our readers - not for algorithms. You can help! Become a supporter of Eurogamer and you can view the site completely ad-free, as well as gaining exclusive access to articles, podcasts and conversations that will bring you closer to the team, the stories, and the games we all love. Subscriptions start at £3.99 / $4.99 per month.