UK Top 40: SSX boards chart top spot
GAME-deprived Mario Party 9 manages third-place.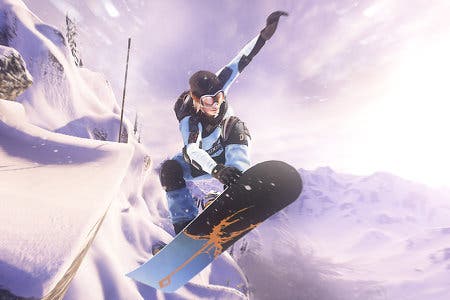 EA snowboarding reboot SSX has claimed first place in the UK all-formats chart.
It is the first time an SSX game has ever hit the top spot. Chart-Track does not divulge sales figures, but SSX sold more than double the previous best-placed game in the series, SSX 3, back in 2003.
Fellow new entry Mario Party 9 was third, despite not being stocked by GAME.
Nintendo's mini-game collection scored its best-ever chart placing too - two places higher than previous best Mario Party 8. It landed just behind FIFA 12, which scored second.
PlayStation Vita exclusive Uncharted: Golden Abyss, last week's number one, fell to fourth place. Sales were down 71 per cent.
After last week's flurry of launches, Uncharted and FIFA Football (down from second to eighth) are the only Vita exclusives still clinging to the chart.
Mortal Kombat Komplete Edition, last week's other new release, is nowhere to be seen.
Mario & Sonic London 2012 Olympics was fifth, while UFC Undisputed 3 and Modern Warfare 3 were sixth and seventh, respectively. Assassin's Creed: Revelations and Battlefield also made the top ten.
The full chart lies below.
| This Week | Last Week | Title | Platform(s) |
| --- | --- | --- | --- |
| 1 | New entry | SSX | PS3, Xbox 360 |
| 2 | 4 | FIFA 12 | PS3, Xbox 360 |
| 3 | New entry | Mario Party 9 | Wii |
| 4 | 1 | Uncharted: Golden Abyss | Vita |
| 5 | 6 | Mario & Sonic: London 2012 Olympic Games | Wii |
| 6 | 3 | UFC Undisputed 3 | PS3, Xbox 360 |
| 7 | 8 | Call of Duty: Modern Warfare 3 | DS, PC, PS3, Wii, Xbox 360 |
| 8 | 2 | FIFA Football | Vita |
| 9 | 31 | Assassin's Creed: Revelations | PC, PS3, Xbox 360 |
| 10 | 9 | Battlefield 3 | PC, PS3, Xbox 360 |
| 11 | 7 | Syndicate | PC, PS3, Xbox 360 |
| 12 | 29 | Batman: Arkham City | PS3, Xbox 360 |
| 13 | 12 | The Elder Scrolls 5: Skyrim | PC, PS3, Xbox 360 |
| 14 | 16 | Zumba Fitness | Wii, PS3, Xbox 360 |
| 15 | 10 | Final Fantasy 13-2 | PS3, Xbox 360 |
| 16 | 5 | Rayman Origins | PS3, Wii, Xbox 360 |
| 17 | 14 | Just Dance 3 | Wii, Xbox 360 |
| 18 | 20 | Saints Row: The Third | PC, PS3, Xbox 360 |
| 19 | 24 | Uncharted 3: Drake's Deception | PS3 |
| 20 | 19 | Rage | PC, PS3, Xbox 360 |
| 21 | 13 | Skylanders: Spyro's Adventure | 3DS, PS3, Wii, Xbox 360 |
| 22 | 26 | Kingdoms of Amalur: Reckoning | PC, PS3, Xbox 360 |
| 23 | 21 | Super Mario 3D Land | 3DS |
| 24 | 25 | Forza Motorsport 4 | Xbox 360 |
| 25 | 23 | Metal Gear Solid: HD Collection | PS3, Xbox 360 |
| 26 | 34 | Zumba Fitness 2 | Wii |
| 27 | 17 | Fallout: New Vegas Ultimate Edition | PC, PS3, Xbox 360 |
| 28 | 22 | F1 2011 | PC, PS3, Vita, Xbox 360 |
| 29 | 37 | Moshi Monsters: Moshling Zoo | DS |
| 30 | 38 | Lego Pirates of the Caribbean | 3DS, DS, PC, PS3, Wii, Xbox 360 |
| 31 | 40 | Mario Kart 7 | 3DS |
| 32 | 36 | Lego Harry Potter: Years 5-7 | PC, PS3, Wii, Xbox 360 |
| 33 | 18 | The Darkness 2 | PC, PS3, Xbox 360 |
| 34 | Re-entry | Sonic Generations | PS3, Xbox 360 |
| 35 | Re-entry | The Sims 3 | 3DS, PC, PS3, Wii, Xbox 360 |
| 36 | Re-entry | Skate 3 | PS3, Xbox 360 |
| 37 | Re-entry | The Sims 3: Pets | 3DS, PC, PS3, Wii, Xbox 360 |
| 38 | Re-entry | Dead Island | PC, PS3, Xbox 360 |
| 39 | 35 | Binary Domain | PS3, Xbox 360 |
| 40 | 33 | Cars 2 | DS, PC, PS3, Wii, Xbox 360 |