UK chart: Assassin's Creed 3 top, second biggest launch of the year
Ubisoft's leap of faith rewarded with best sales of the series.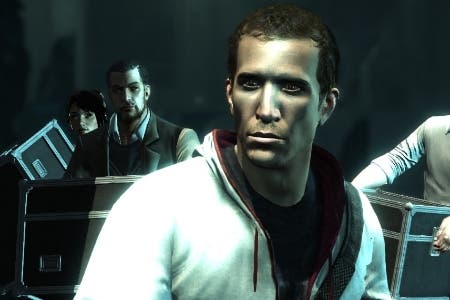 Assassin's Creed 3 has topped the UK charts with the best sales of the series to date. It was the biggest launch in publisher Ubisoft's history and the second biggest launch of any game in the UK this year (behind FIFA 13).
It doubled the launch week sales of Assassin's Creed 2, and beat last year's Revelations by over 117,000 copies.
Wow.
Need for Speed: Most Wanted appeared fifth in the UK all-format charts - it could only manage the week's fourth highest new entry. The Criterion-developed game was beaten by WWE 13 in third and Football Manager 13 in fourth.
FIFA 13 clung onto second, meanwhile.
PlayStation Vita spin-off Assassin's Creed 3: Liberation arrived in 14th place - the third biggest release for the system behind launch titles Uncharted: Golden Abyss and FIFA Football (counting physical copies at least - Chart-Track does not measure digital sales).
Medal of Honor: Warfighter, last week's number one, fell to sixth. Forza Horizon, Skylanders Giants, Just Dance 4 and Dishonored made up the rest of the top ten.
The full chart lies below.
| This Week | Last Week | Title | Platform(s) |
| --- | --- | --- | --- |
| 1 | New entry | Assassin's Creed 3 | PS3, Xbox 360 |
| 2 | 2 | FIFA 13 | PS3, Xbox 360 |
| 3 | New entry | WWE 13 | PS3, Xbox 360 |
| 4 | New entry | Football Manager 2013 | PC |
| 5 | New entry | Need for Speed: Most Wanted | PC, PS3, Xbox 360 |
| 6 | 1 | Medal of Honor: Warfighter | PC, PS3, Xbox 360 |
| 7 | 3 | Forza Horizon | Xbox 360 |
| 8 | 4 | Skylanders Giants | PS3, Wii, Xbox 360 |
| 9 | 6 | Just Dance 4 | PS3, Wii, Xbox 360 |
| 10 | 5 | Dishonored | PC, PS3, Xbox 360 |
| 11 | 7 | Professor Layton and the Miracle Mask | 3DS |
| 12 | 8 | Moshi Nonsters: Moshlings Theme Park | 3DS, DS |
| 13 | 10 | Resident Evil 6 | PC, PS3, Xbox 360 |
| 14 | New entry | Assassin's Creed 3: Liberation | Vita |
| 15 | 12 | Pokémon Black 2 | DS |
| 16 | 13 | The Elder Scrolls 5: Skyrim | PC, PS3, Xbox 360 |
| 17 | 15 | F1 2012 | PC, PS3, Xbox 360 |
| 18 | 9 | Doom 3: BFG Edition | PS3, PC, Xbox 360 |
| 19 | 11 | Borderlands 2 | PC, PS3, Xbox 360 |
| 20 | 19 | Lego Batman 2: DC Super Heroes | DS, PC, PS2, PS3, PSP, Wii, Xbox 360 |
| 21 | 18 | New Super Mario Bros. 2 | 3DS |
| 22 | 16 | Pokémon White 2 | DS |
| 23 | 21 | Forza 4 | Xbox 360 |
| 24 | 14 | 007 Legends | PS3, Xbox 360 |
| 25 | 17 | PES 2013 | PC, PS3, Xbox 360 |
| 26 | 22 | Sleeping Dogs | PC, PS3, Xbox 360 |
| 27 | 20 | XCOM: Enemy Unknown | PC, PS3, Xbox 360 |
| 28 | 33 | Assassin's Creed: Revelations | PC, PS3, Xbox 360 |
| 29 | 35 | Angry Birds Trilogy | 3DS, PS3, Xbox 360 |
| 30 | 24 | Dead Island: GOTY Edition | PC, Xbox 360, Xbox 360 |
| 31 | 23 | Gran Turismo 5 Academy Edition | PS3 |
| 32 | 31 | Mario & Sonic: London 2012 Olympic Games | Wii |
| 33 | 25 | Rocksmith | PC, PS3, Xbox 360 |
| 34 | 32 | Call of Duty: Black Ops | PC, PS3, Wii, Xbox 360 |
| 35 | 29 | Super Mario 3D Land | 3DS |
| 36 | 26 | Call of Duty: Modern Warfare 3 | PC, PS3, Wii, Xbox 360 |
| 37 | 28 | Kinect Disneyland Adventures | Wii |
| 38 | 40 | Sonic Generations | 3DS, PS3, Xbox 360 |
| 39 | 38 | Mario Kart 7 | PS3 |
| 40 | 37 | Kinect Sports | Xbox 360 |