UK chart: Anarchy Reigns enters in 16th
Enough to go Platinum?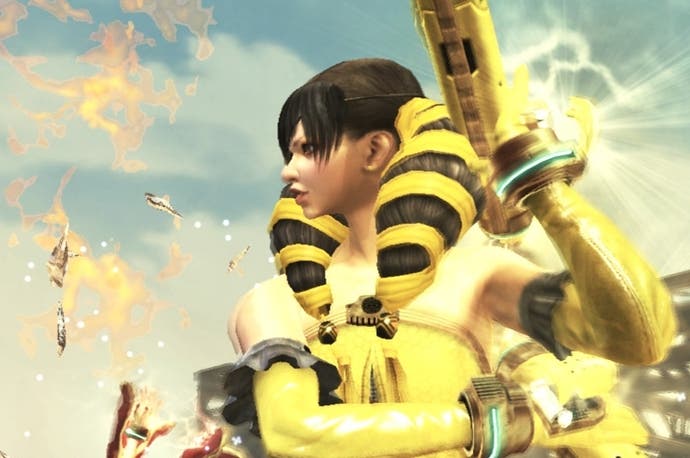 A new release! An actual new release has entered the charts. It's the Platinum-made beat-'em-up Anarchy Reigns, and it arrived in 16th place.
Does 16th place mean it did fairly well? Or is it that post-Christmas game sales are, overall, quite low - giving Anarchy Reigns a boost in ranking? UK numbers company Chart-Track does not disclose figures, but it may be a bit of both - the game's £19.99 RRP will surely have helped shift copies.
Further up the chart, this week's top five remains exactly the same. Feel free to go back and read last week's article for the run-down.
Oh, go on then, it was FIFA 13, Far Cry 3, Black Ops 2, Hitman: Absolution and Need for Speed: Most Wanted.
It was another week without any Wii U exclusives in the top 40 - or Vita exclusives, for that matter.
The full top 40 lies below.
| This Week | Last Week | Title | Platform(s) |
| --- | --- | --- | --- |
| 1 | 1 | FIFA 13 | PS3, Wii U, Xbox 360 |
| 2 | 2 | Far Cry 3 | PC, PS3, Xbox 360 |
| 3 | 3 | Call of Duty: Black Ops 2 | PC, PS3, Wii U, Xbox 360 |
| 4 | 4 | Hitman: Absolution | PC, PS3, Xbox 360 |
| 5 | 5 | Need for Speed: Most Wanted | PC, PS3, Xbox 360 |
| 6 | 7 | Just Dance 4 | PS3, Wii, Xbox 360 |
| 7 | 6 | Halo 4 | Xbox 360 |
| 8 | 13 | Football Manager 2013 | PC |
| 9 | 10 | The Elder Scrolls 5: Skyrim | PC, PS3, Xbox 360 |
| 10 | 9 | Lego Lord of the Rings | 3DS, DS, PS3, Xbox 360 |
| 11 | 11 | Assassin's Creed 3 | PC, PS3, Wii U, Xbox 360 |
| 12 | 14 | WWE 13 | PS3, Xbox 360 |
| 13 | 12 | Sonic & All-Stars Racing Transformed | 3DS, PC, PS3, PS Vita, Xbox 360 |
| 14 | 8 | Forza Horizon | Xbox 360 |
| 15 | 15 | Dishonored | PC, PS3, Xbox 360 |
| 16 | New entry | Anarchy Reigns | PS3, Xbox 360 |
| 17 | 17 | Skylanders Giants | PS3, Wii, Xbox 360 |
| 18 | 16 | Medal of Honor: Warfighter | PC, PS3, Xbox 360 |
| 19 | 18 | Forza 4 | Xbox 360 |
| 20 | 20 | Lego Batman 2: DC Super Heroes | DS, PC, PS2, PS3, PSP, Wii, Xbox 360 |
| 21 | 21 | Resident Evil 6 | PC, PS3, Xbox 360 |
| 22 | 22 | Borderlands 2 | PC, PS3, Xbox 360 |
| 23 | 19 | Disney Epic Mickey 2: The Power of Two | PS3, Wii, Xbox 360 |
| 24 | 27 | Dead Island: GOTY Edition | PC, PS3, Xbox 360 |
| 25 | 24 | Doom 3: BFG Edition | PC, PS3, Xbox 360 |
| 26 | 26 | Mario Kart 7 | 3DS |
| 27 | 29 | Sleeping Dogs | PC, PS3, Xbox 360 |
| 28 | 30 | Sonic Generations | 3DS, PC, PS3, Xbox 360 |
| 29 | 28 | New Super Mario Bros. 2 | 3DS |
| 30 | 23 | Mario & Sonic: London 2012 Olympic Games | 3DS, Wii |
| 31 | 38 | PES 2013 | PC, PS3, Xbox 360 |
| 32 | 34 | Grand Theft Auto 4 | PC, PS3, Xbox 360 |
| 33 | 31 | Super Mario 3D Land | 3DS |
| 34 | 32 | Grand Theft Auto Episdodes - Liberty City | PC, PS3, Xbox 360 |
| 35 | 35 | Angry Birds Trilogy | 3DS, PS3, Xbox 360 |
| 36 | Re-entry | XCOM: Enemy Unknown | PC, PS3, Xbox 360 |
| 37 | 39 | Gran Turismo 5: Academy Edition | PS3 |
| 38 | Re-entry | Rocksmith | PC, PS3, Xbox 360 |
| 39 | Re-entry | Lego Harry Potter: Years 5-7 | Wii, PS3, Xbox 360 |
| 40 | Re-entry | Zumba Fitness 2 | Wii |