Ubisoft scores kids' BAFTAs double
Plus: Young Game Designers crowned.
It was Ubisoft's night at the 2010 EA British Academy Children's Awards, with Rabbids Go Home named Best Videogame while Just Dance won in the Kids' Vote category.
The star-studded ceremony, held last night at London's Park Lane Hilton, also saw the first winners of the BAFTA Young Game Designers competition crowned, with Beached Whale Productions' Hamster: Accidental World Domination scooping the prize.
Rabbids beat off stiff competition from a Nintendo trio of New Super Mario Bros. Wii, Super Mario Galaxy 2 and Pokemon Heart Gold/Soul Silver. Just Dance, meanwhile, was the surprise winner voted for by children from a shortlist of ten, including FIFA 10 and LEGO Harry Potter.
"It's amazing recognition," Ubisoft's Ombeline Wallon told Eurogamer. "You don't think it's going to happen until you see the name on the screen. It's fantastic to be recognised by such an important institution [and] goes to show we're hopefully going in the right direction."
"For kids to vote for Just Dance is really important for us," chipped in colleague Rachel Grant. "The awards will go on our desks until they are prised from us!"
The BAFTA Young Game Designers competition saw hundreds of submissions whittled down to a final three, with the award presented by YGD ambassador and Neville Longbottom actor Matthew Lewis.
"I've been wanting to do this for six years," Dan Pearce, 16, of Beached Whale Productions told us, revealing that he first heard about the competition at this year's Eurogamer Expo.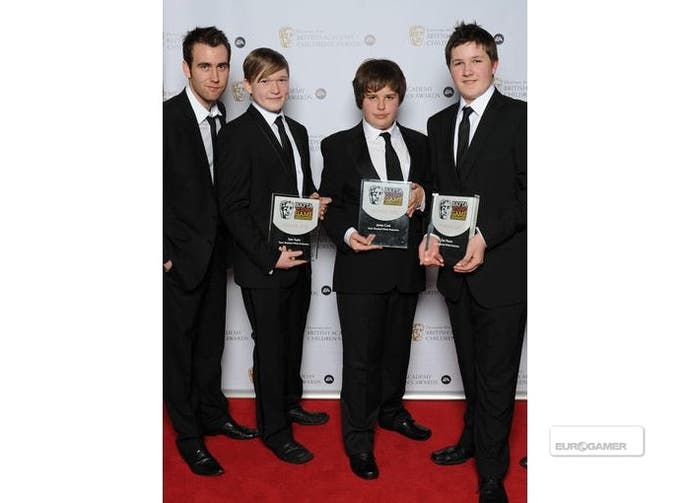 "I was in the business section, saw it and thought I'd give it a go. I kept telling teammates: don't get your hopes up, don't think we've any chance of winning. obviously I was wrong!"
Dan, along with teammates Sam Taylor, 16, and James Cook, 13, will each receive work experience at EA and get their winning design made into a playable prototype by Abertay university.
"It's bloody amazing," added Taylor. "All the interviews, photographs, it's just mad!"
"It really shows what potential there is for competition like this to open up the creative process," said Abertay director Paul Durrant.
"It's a really important example of the way something can be scaled up and applied in schools. You can actually turn the tables so kids go back and tell their teachers what they've learnt. That's maybe a better way to communicate with schools than through policy makers. "
Durrant added that the prototype would be completed by "early next year" so it could "be around for the main videogames awards. We'd better get working!"
Runners-up Blazing Chickens - Rae Elias, 16, Joshua Girardi, 15, and Aaron Lewis, 16 - and Hexadecimal – Matt Gilbert, 14, Ben Brooks, 14, and James Weller, 14 – also attended the ceremony and we're buoyant despite not winning.
"The best part was doing it with two friends – it's a once in a lifetime experience," said Elias, whose team's concept for Born Dreaming impressed judges with its imagination and originality.
Hexadecimal's i-Volution was another hugely impressive entry, and Gilbert said: "We're very happy we got this far - I've been designing games for my whole life."
Full details and concept images for all three of the shortlisted entries are on the BAFTA website.
Attended by a raft of celebrities, from X Factor loser Aiden Grimshaw to Professor Robert Winston, the kids' BAFTAs offered all the budding game designers an early taste of success at the highest level.
"You're never going to get this again unless you're lucky," said Hexadecimal's Weller. "Celebrities; good food! We just thought we'd take part."'