Ubisoft just banned thousands of For Honor AFK farmers
Kensei they didn't warn you.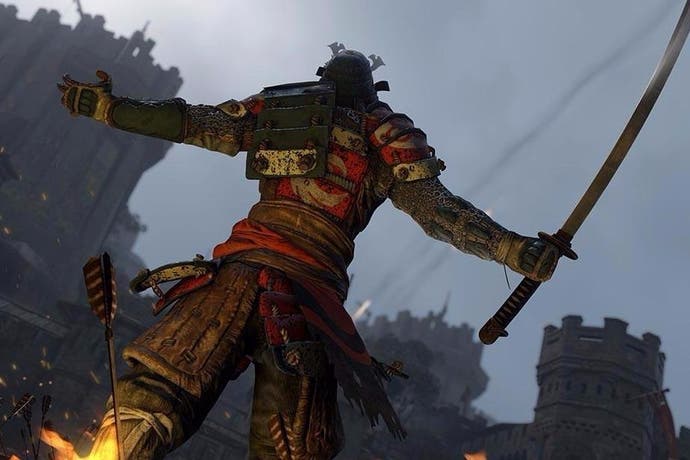 Earlier this month, Ubisoft warned the For Honor community it was ready to take action against AFK farmers.
In the multiplayer-focused brawler, players gain experience points and loot for completing matches. The problem is, you don't actually have to do much of anything in the match itself, except move about, to get your rewards. This, combined with a lack of a boot player mechanic, means you sometimes get players who just go AFK right from the off, but keep their character moving throughout a match by, for example, tying a rubber band on the control stick. AFK farming is infuriating if it's your teammate doing it and you're trying to play properly.
On 3rd March, Ubisoft said dealing with AFK farming was a top priority, and signalled that it was watching matches in order to gather evidence it could use to justify warnings and bans.
Now, it's announced the initial results of its action. A first wave of warnings was sent earlier last week, and the first wave of banning was issued yesterday, alongside a new wave of warnings.
Yesterday, Ubisoft said, around 1500 players received a three-day ban for AFK farming, with around 4000 new AFK farmers detected and set to receive a warning.
Using a cheat engine to exploit AFK farming is against Ubisoft's Code of Conduct, the company said, and these impacted players may get a permaban for cheating, too.
"We'll leave you with a reminder of our Community Values," Ubisoft concluded:
Honor: Fight, win and lose with Honor. Support your teammates.
Respect: Respect your opponents and other community members, inside and outside the game.
Share: Share your experience, share tips and hints, spread the word! Looking forward meeting you all on the battlefields!
So there you have it. Hopefully we'll start to less less AFK farming on the battlefield.