Ubisoft finally shows Assassin's Creed Valhalla gameplay
Here's everything we learned.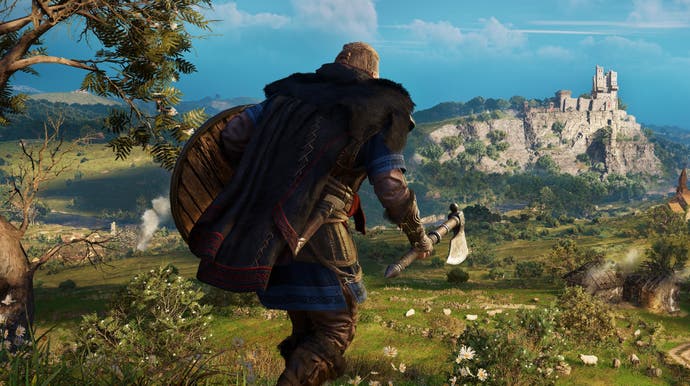 Today's the day we (officially) saw Assassin's Creed Valhalla gameplay for the first time - not counting those leaks last week.
Ubisoft showed a decent look during its Ubisoft Forward presentation, and then even more in a post-show deep dive. Eurogamer has also been playing a build of the game ourselves - you can watch that and hear Zoe's thoughts below.
This section shows the climactic fort assault spotted in those leaks, but also some more peaceful gameplay exploring East Anglia and attending a wedding between tribes. Well, it starts peaceful, anyway.
Several long-lost features return from previous Assassin's Creed entries. You can once again engage in social stealth within crowds by putting up your hood and blending in. You can hunt down pieces of paper via AC3-style parkour challenges (these now unlock tattoo designs), and chill out with a spot of fishing (as in Black Flag).
Regenerative health is gone, replaced by the need to forage for food and eat rations. There's now a gallop meter for horses, and a charisma meter for conversations.
Other activities shown included flyting (think Monkey Island-style insult fights), building cairns and drinking games where you chug horns of drink.
Oh, and you can interact and recruit cats to join your longship crew.
Here's Zoe with everything she found: