Ubisoft Connect's new cross-progression lets you carry your saves between all platforms
But with some caveats.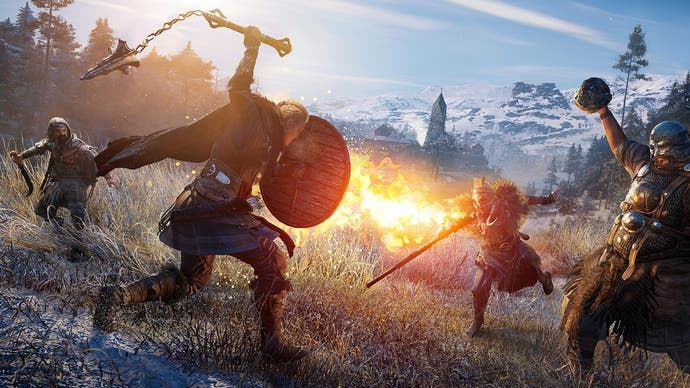 Last month, Ubisoft announced it would be combining its long-running Uplay and the Ubisoft Club services into one free uber-service, called Ubisoft Connect; with the arrival of Assassin's Creed Valhalla, the service (with its flagship cross-play and cross-progression features) is now in full swing, and, in case it wasn't clear given Ubisoft's previous vagueness, cross-progression isn't restricted to a single console family, but works across all platforms - with caveats.
Cross-progression beyond a single platform ecosystem isn't a new thing, of course - the likes of Fortnite and Minecraft have been offering the feature for quite some time - but it's usually limited to games with significant multiplayer elements. That makes Ubisoft's implementation somewhat unusual insofar as it also enables players to resume their saves elsewhere for sprawling single-player-focussed offerings such as Assassin's Creed Valhalla.
There are, however, certain restrictions as to what can and can't follow on your cross-platform adventures, which Ubisoft has now detailed more thoroughly in a newly released FAQ. The short of it is that while progress can carry from Xbox to PlayStation or PlayStation to PC (or any other permutation of platform hop), paid content bought on one system mostly won't follow to another outside of the same console family.
Purchased add-ons, for instance, including Valhalla's Season Pass, will be accessible between consoles within the same family (provided cross-generation entitlements exist) but will need to be repurchased on other platforms. As such, items dependant on the Season Pass will be removed from your inventory when playing an existing save on a different platform, but will be restored when returning to the platform of original purchase.
Similarly, Valhalla's premium currency, Helix Credits, can only be used on the same platform (including those in the same console family) they were purchased on. However, any cosmetic items bought using Helix Credits will be accessible on all platforms, and that will be true for all in-game currency and items acquired during play too.
It's not quite seamless then, but the ability to resume a save on any supported platform, even with caveats, is very definitely a welcome one, particularly as Ubisoft has already confirmed the feature is likely to be the norm for its newest releases, including Hyper Scape, Immortals Fenyx Rising, and Riders Republic. Hopefully it won't be long before other publishers follow suit.