Two previously Japan-only Taiko no Tatsujin rhythm RPGs are being bundled up for Switch
Rhythm Adventure Pack out this winter.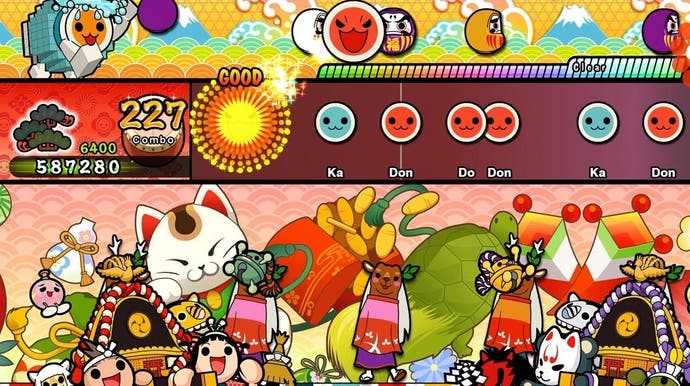 Bandai Namco's long-running, drum-bashing rhythm series Taiko no Tatsujin is returning this winter in the newly revealed guise of Taiko no Tatsujin: Rhythmic Adventure Pack - a bundle of two previously Japan-only 3DS RPGs, localised and spruced up for Switch.
More specifically, Bandai Namco's Rhythmic Adventure Pack brings Taiko no Tatsujin: Dokodon! Mystery Adventure and Taiko no Tatsujin: Don to Katsu no Jikuu Daibouken to the west for the first time, both of which combine the series' familiar rhythm-based drum-pummelling action with story driven exploration and combat more reminiscent of an RPG.
In Don to Katsu no Jikuu Daibouken, series mascot Don-chan embarks on a history-hopping jaunt through time, while Dokodon Mystery Adventure (the games are more simply known as Rhythmic Adventure 1 and 2 on Switch) offers up a globe-spanning quest to retrieve powerful treasures, which have been stolen by the nefarious Hexagria Magical Society.
In total, the Switch bundle includes over 250 monsters, bosses, and enemy drums to battle against (some of which can be recruited to assist in the adventure), alongside over 130 music tracks, 6 of which are new to this version of the game. Bandai Namco notes that a classic mode, focussing purely on drumming along to the music, will also be included for those looking for a more traditional Taiko no Tatsujin experience.
Bandai Namco hasn't revealed a price for Taiko no Tatsujin: Rhythmic Adventure Pack just yet - and it doesn't appear to have shared any word on the likes of peripherals and physical releases - but no doubt more will be revealed ahead of its launch on Switch this winter.