Two active F1 drivers just won iRacing's Spa 24
Lando hope and glory.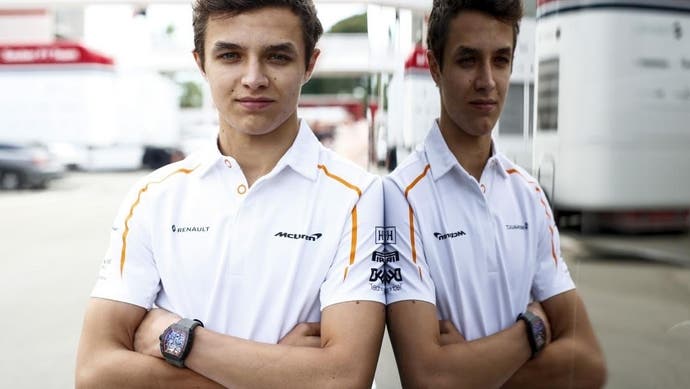 Lando Norris and Max Verstappen - arguably two of F1's hottest properties - have just wrapped up a pretty major achievement together, the two working as part of the joint Team Redline/Pure Racing Team effort to win iRacing's 24 Hours of Spa event.
The two were joined by sim racing veterans Max Benecke and Max Wenig and found themselves in the top split where they dominated proceedings, though that's not to say their race was without drama. With the race well into its final hour, Verstappen had a 'technical' issue - with his brake pedal falling off of his home rig - meaning that Lando Norris had to step in to stroke the Audi R8 LMS GT3 home. Despite the late hiccough, Team Redline PRT finished nearly 30 seconds up the road from its nearest competitor.
Norris and Verstappen are no strangers to the world of sim racing. Norris is a regular who also frequently streams his sessions on his own Twitch channel, while back in 2015 Max Verstappen pulled off an audacious move around the outside of Blanchimont in that year's Belgian Grand Prix - a move he'd practiced previously in iRacing before making it stick in the real world.
The 24 Hours of Spa in iRacing, meanwhile, acts as a kind of curtain raiser for the real-life event, which takes place this coming weekend, although Max and Lando won't be present as they're otherwise engaged at the German Grand Prix.