Turns out Kevin Conroy is working on Batman: Arkham Origins after all
UPDATE: Ezio actor as Batman, Booker DeWitt as Joker.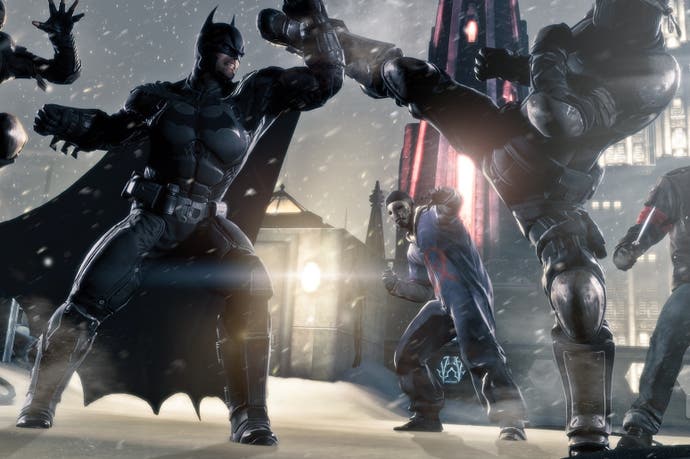 UPDATE 2: Prominent voice actors Roger Craig Smith and Troy Baker will be handling the roles of Batman and the Joker respectively in the upcoming Batman: Arkham Origins, Joystiq has reported.
Smith is best known for his work as Assassin's Creed co-leading man Ezio Auditore, though he also voiced Chris Redfield in several Resident Evil games, and Sonic in many of the blue hedgehogs latest titles (including Wreck-It Ralph).
Baker, meanwhile, is the voice of BioShock Infinite's leading man Booker DeWitt, as well as Jake Muller in Resident Evil 6, and Joel in the upcoming The Last of Us. Hilariously, Baker was the voice of Batman in Lego Batman 2: DC Super Heroes, meaning he'll have voiced both Batman and the Joker at one point or another, while in Batman: Arkham City he did the voices for both Robin and Two-Face. Sheesh!
It remains to be seen how Conroy will fit into the picture. Given that Arkham Origins is a prequel, perhaps it will take place via flashback and Conroy will narrate? Or maybe we'll get a childhood flashback and Conroy will play Batman's dad? Or maybe he'll show up as someone entirely unexpected. Hopefully we'll know more with E3 just around the corner.
UPDATE: Warner has confirmed Deathstroke as a playable character for Batman: Arkham Origins and released a new trailer.
Deathstroke is a playable character in Batman: Arkham Origins' challenge mode. If you pre-order you get early access to the Deathstroke pack. He has his own unique weapons and special moves, and is playable in all challenge maps in the game as well as in two additional challenge maps included with the pack. The pack also includes two alternate Deathstroke character skins.
The new trailer is below.
Watch on YouTube
ORIGINAL STORY: Contrary to previous reports, Kevin Conroy is working on Warner Bros. Montreal's Batman: Arkham Origins.
The long-time Batman voice actor confirmed the news in a Q&A session at the Dallas Comic Con.
"We've been working for about nine to ten months on the next Arkham," he said. "We all signed these contracts that we weren't allowed to talk about this. The studio likes to completely control the roll out of any product, so they don't like any of us to talk about anything. It's now been announced.
"It's an unbelievable game. I still can't say anything about it. You don't want me to anyway because I'd ruin it for you. But it's amazing. It's a huge, huge cast and a big story. It took almost a year to write and put together. They've been working on it for a long time."
It's unclear what role Conroy will play in the game, but given his prior work, Batman seems like an obvious choice.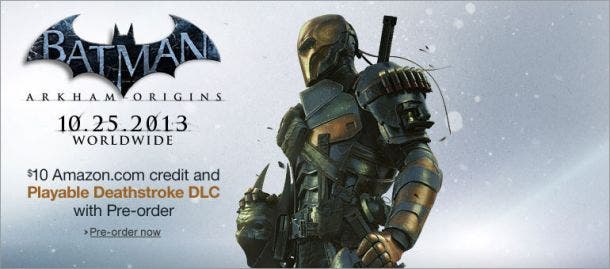 Meanwhile, it appears Deathstroke, who sparred with Batman in a teaser trailer released last week (below), will be a playable downloadable character. That's according to Amazon anyway. There, if you pre-order, you get a $10 Amazon.com credit note and Deathstroke.
Expect more on the game at E3.