Turn Stardew Valley into a battle royale with this PC mod
Last farmer standing wins.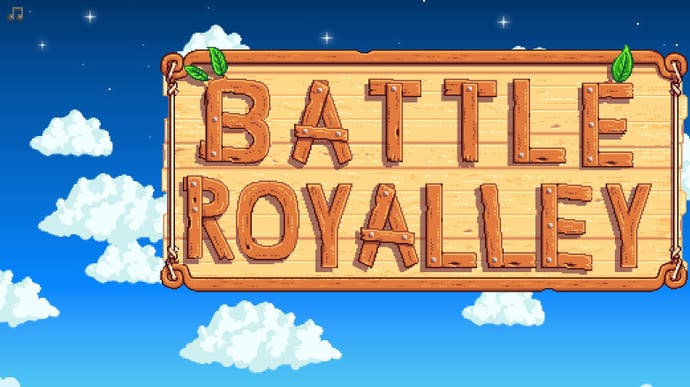 Ever thought that Stardew Valley could be spiced up with a little battle royale action? Nope, me neither, but someone's done just that by developing a mod for the PC version of the farming sim and it's perfectly entitled Stardew Royalley.
A lot depends upon how many people you can get into the server at one time, but gather up to 100 antisocial farmers together and you can all fight to death. "Last farmer standing wins" and just like Battle Royale stalwarts PUBG and Fortnite, there's even a shrinking zone to keep you on your toes and moving towards your murdery foes.
"You can find swords, slingshots, bombs, healing items and sometimes horses or even hats in chests spawned around the map," describes the mod author, (thanks, PC Gamer). "Chop trees and craft fences to use as cover. Hide behind trees/bushes/etc. for surprise attacks. The world border will gradually close in on a location."
A lot of flexibility is afforded to the server host, including the ability to choose where the storm focuses and the maximum number of farmers you want in your game. For more, including download information, head on over to Nexus Mods. Here's a 18-second teaser to whet your murderous appetite:
Multiplayer for Stardew Valley on PC and Nintendo Switch launched last month and rolled out for free. Creator Eric "ConcernedApe" Barone told fans that bringing multiplayer to PS4 and Xbox One remains a "top priority".