Trials Evolution leaked
UPDATE: RedLynx responds.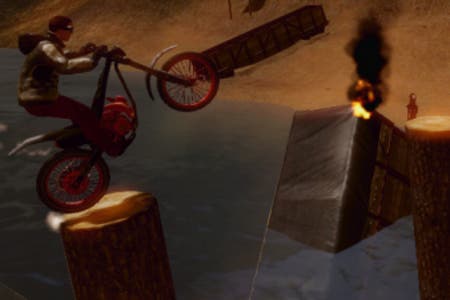 UPDATE: Trials developer RedLynx has taken to its forum to respond to the leak of Trials Evolution.
Developer "jenkki" said the leaked version of the game is unfinished and does not offer the proper experience.
The forum post in full:
"Unfortunately there has been some unofficial information coming out ahead of the development process. We assure you we are aware of these and will be tackling the issue with our partners.
"Here is an important thing for you to know: the leaked version does not have any online functionality, which is crucial to the Trials experience. Lead boards, friend challenges, online multiplayer and global track sharing are all fundamental features of the game which cannot be fully experience ahead of launch.
"Even single player uses an asynchronous multiplayer feature in a new way. Without these core online features, the game cannot be experience properly before launch.
"We're continuing to polish and finish up the game, and we'll have a new trailer coming soon which will give people a much better look into everything the game will hold and when they can expect to see it."
jenkki goes on to warn against posting links to illegal copies of the game or videos of the leaked version in action, before thanking fans for their patience and assuring the wait will be worth it.
ORIGINAL STORY: The long-awaited Xbox Live Arcade title Trials Evolution has been leaked online.
The game appeared on a number of file-sharing websites last night, sparking the appearance of unapproved gameplay videos.
One video (now removed from YouTube following a claim by publisher Ubisoft) demonstrated single-player racing, multiplayer functionality and rider customisation.
Whether this leaked version represents the final build of the game is not entirely clear. We've asked developer RedLynx to comment on the leak and will update the story as soon as we receive a statement.
Thanks to Eurogamer forum poster Ironlungs76 for bringing this to our attention.