Treyarch: why Call of Duty Zombies isn't its own game
"It's really about flexibility and variety of choice."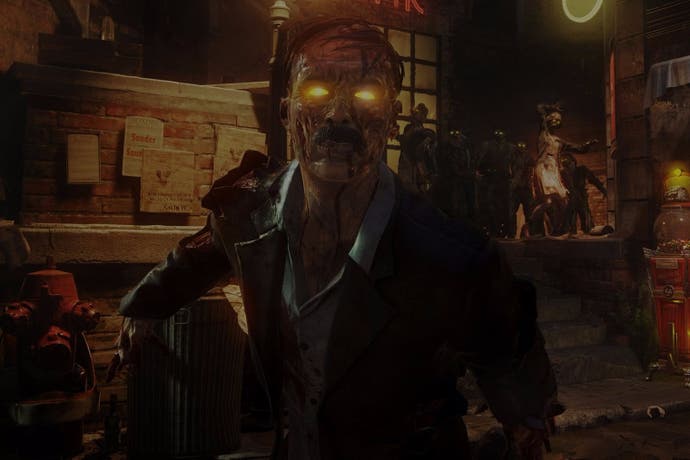 Call of Duty's Zombies mode has grown from being a cool bonus to one of the best things - for some the best thing - about the first-person shooter series.
And for a few years now some have called for Activision to create a standalone Zombies game, the idea being that a bigger budget and more development time would result in a better experience.
But that seems unlikely when it comes to Treyarch's Call of Duty games at least. Treyarch, which kicked off Zombies with the launch of 2008's World at War, sounds keen on keeping Zombies a part of the Call of Duty package.
Why? Because players enjoy switching between all three modes in Call of Duty games: from campaign to multiplayer to Zombies, depending on their mood.
"We've got to cater for a lot of people," Jason Blundell, director of campaign and Zombies for Call of Duty: Black Ops 3, told Eurogamer.
"Sometimes you want to watch a movie and want to be engaged narratively on a concept. And then we have multiplayer - sometimes you just want to run around and have that high engagement experience. And sometimes you want to kill the undead - sometimes you want to play Zombies.
"We see by the numbers and how people engage with the game as a whole, people change that feeling. They'll move between the different modes."
Because of this, Black Ops 3 lets parties of players switch modes seamlessly - a first for the series.
"We've made a unified .exe for the first time, which means all three modes run from the same place," Blundell explained.
"So when you party up, you can move between each one. There's no unloading the .exe. In previous games you'd see it go to black and then it would come back up again. You can seamlessly move because now all three are online."
A large team within Treyarch (which is around 400 people) has worked on Zombies mode for Black Ops 3 for some time, Blundell said, creating a film noire-styled map bigger than any previous Zombies effort. Shadows of Evil stars Ron Perlman, Heather Graham, Neal McDonough and Jeff Goldblum.
The second Zombies map is called The Giant, a remake of the World at War map Der Riese.
For Blundell, the size and scope of Black Ops 3's Zombies maps counter the argument that a standalone experience would be bigger and better.
"While it's a lovely sentiment on the idea of breaking Zombies out into its own separate game, we see that people move between all three modes," Blundell continued.
"And we're always about giving as much content, as much value for money, as we possibly can. That's why we pack our disc with as many game modes as we have currently.
"What started as being very much a bonus mode in Zombies has now become a third pillar. We have this massive campaign now. We've got the juggernaut, which is multiplayer. And now for the first time Zombies has taken off as being a full-on experience.
"It's really about flexibility and variety of choice for the amount of people who buy our games."
So there you have it. Don't expect a Call of Duty Zombies game any time soon.