Treyarch nerfs Call of Duty: Black Ops Cold War sliding in time for launch
Get your skates on.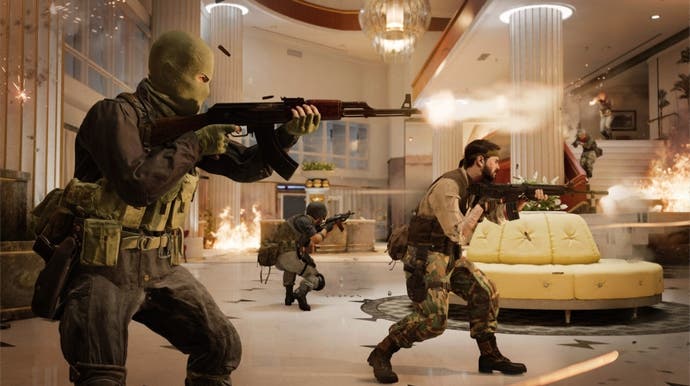 Treyarch has nerfed Call of Duty: Black Ops Cold War's sliding just in time for launch.
In patch notes revealing the changes made to the shooter between the beta and release, Treyarch detailed how movement has been tweaked. The headline here is a big nerf to sliding, which was seen as rather over the top in the beta.
Treyarch has shortened the slide length and reduced the slide speed. "Sliding is intended as an escape mechanic or quick entrance into crouch or cover," Treyarch explained.
"It's not intended to be over-used during engagements, or to be too advantageous in close quarters. We've shortened the slide length and reduced its speed to address these goals."
Treyarch has also made it so ending a sprint into fire is now faster than sliding to fire. "In the beta, it was faster to fire your weapon from a sprint by sliding than by simply ending your sprint to fire," Treyarch said.
"This has been fixed so that ending a sprint to fire is the faster way to get your gun up, and sliding to fire is no longer faster."
Elsewhere, it's worth noting Treyarch has brought the earn rate of Scorestreaks down to try and reduce Scorestreak spam, while increasing score bonus thresholds at 10-kill and 15-kill streaks to make high streaks feel more rewarding, and to help boost score to higher-end Scorestreaks.
"In the beta, Scorestreaks were being earned more often than intended in several game modes, so we've made tuning adjustments to bring the overall earn rate down," Treyarch explained.
"On the other hand, because even top players were having a hard time getting to the highest Scorestreaks, we've increased the score bonus thresholds for higher kill streaks."
As part of this, Treyarch has added variation to Scorestreak cooldowns "to allow for more interesting player choices and strategy", while also reducing low-end Scorestreak spam.
Black Ops Cold War's Scorestreak system has been one of the more controversial aspects of the game in the run up to launch, with some in the community calling for a return to previous systems. This new system preserves your score after death, which is an attempt to make Scorestreaks more accessible.
"We've reworked the Scorestreak system to incentivise a greater range of play styles in Black Ops Cold War," Treyarch said of the new changes made for launch.
"This means players will keep their score after death, and the earn rates on Scorestreaks have been tuned using data from the alpha and beta to maximise fun and minimise Scorestreak spam.
"As you've seen above, we've recently adjusted Scorestreak costs, earn rates, and streak bonuses to ensure that players are rewarded for both playing the objective and racking up multiple kills in the same life. Cooldown rates have also been tweaked to further balance the system and keep spamming to a minimum. Of course, we'll continue to tune the system for best possible experience post-launch."