Treyarch nerfs Call of Duty: Black Ops 4's Zero, thankfully
She's the one for me.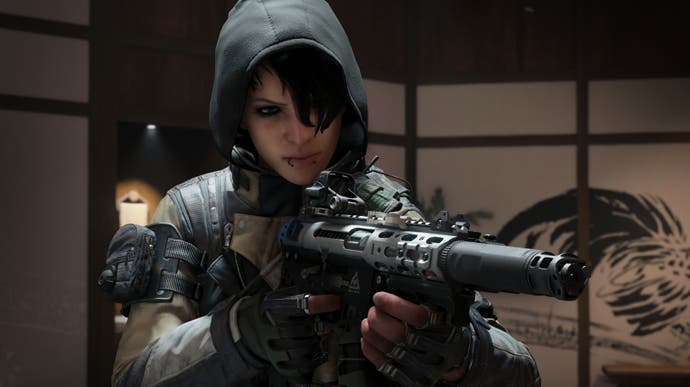 Treyarch has nerfed Zero, the new specialist added to Call of Duty: Black Ops 4 just last week.
Zero hit the PlayStation 4 version of the game first, as per Sony's marketing deal with Activision, and was met with an immediate backlash from players who considered her perhaps the most overpowered specialist ever seen in Call of Duty.
Yesterday, Zero hit the PC and Xbox One versions of the game in nerfed form (she's also now nerfed on PS4). The problem had to do with Zero's hacking ability, the Ice Pick. It lets Zero hack into any enemy scorestreak and take control of it, which no other character can do or counter. It means a player who has earned no streaks can take control of, for example, the devastating attack chopper.
Zero was considered so overpowered, pro Call of Duty players had started to agree not to use her in matches, like an unofficial ban (the Street Fighter competitive community had a similar situation years ago when it banned Akuma from Super Street Fighter 2 Turbo tournaments). The video below goes into detail.
Anyway, the Black Ops 4 1.10 title update (the one that adds custom games to Blackout), nerfs Zero significantly.
"As with all new features in Black Ops 4, we've been paying close attention to how Zero plays into the overall Multiplayer experience and have tuned some of her abilities accordingly," Treyarch said in a post on the Black Ops 4 subreddit.
The update increases the time it takes to earn Ice Pick, adds varying increases to the time it takes her to hack scorestreaks and Torque's Barricade, and prevents her hacks from freezing enemy healing cooldowns (this way a particularly annoying one).
Here are the Zero patch notes in full:
Increased amount of time it takes to earn the Ice Pick.
Increased time required to hack UAV, Care Package, and Counter UAV.
Greatly increased time required to hack Sentry, Drone Squad, Sniper's Nest, Mantis, Thresher, Attack Chopper, and Gunship.
Increased time required to hack Torque's Barricade.
Hacking an enemy no longer prevents their healing cooldown.
Hacking an enemy Assault Pack now causes it to expire.
This does indeed sound like a significant nerf for Zero, which is just what the specialist needed. And it doesn't sound like Treyarch's done with her. This is the studio's first balancing pass on Zero - I expect Treyarch will see how things work out following this latest update and tune her again if needed.