Total War: Shogun 2 - Fall of the Samurai release date
No Tom Cruise isn't in it.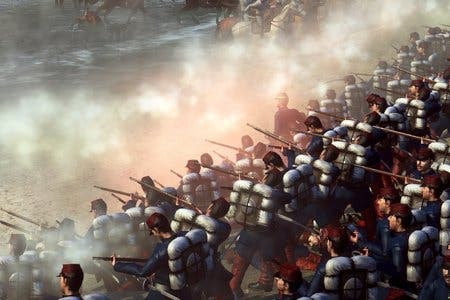 Standalone Total War: Shogun 2 expansion Fall of the Samurai will be released on 23rd March, Sega has announced.
Maybe it'll be a perfect blossom on that day, maybe it won't.
Total War: Shogun 2 - Fall of the Samurai costs £24.99 on Steam.
The expansion tells a story set 400 years after Total War: Shogun 2. The ways of the samurai are coming to end; Western guns are being imported and civil war beckons.
There's a new 19th century Japan campaign map to conquer, which has expanded geographically north to the island of Ezo. There are six new playable clans, new meddling foreign powers, railways, new land units, ships and agents.
Ships can assault ports and vice versa, and tower defences can be upgraded to specialise in archery, matchlock or Gatling gun use.
Multiplayer has been beefed up too, and includes 40 new retainers (not braces for your mouth), 30 new armour pieces and a new 19th century avatar skill tree.