Tom Clancy's EndWar
Go left. Gooooo left. LEFT. I SAID LEFT. (So, none of that.)
With its console focus EndWar might seem like an obvious riposte to EA's Command & Conquer and Lord of the Rings strategy games, but speaking to creative director Michael de Plater at UbiDays, we're told that's not the case. There's no base-building, the camera's almost third-person, and the focus is on battle tactics, with Total War-style squads - infantry, artillery, tanks and the like - issued orders via pad and headset, and relatively limited reinforcement available to bail you out.
"Anything that's not an interesting decision or a realistic decision you'd make as a General, don't put it in the game," de Plater says, when asked about the team's design philosophy. So not only do you not go around setting up factories and mining for dosh, you don't even need to give particularly complex instruction. "When you go 'Red Team, Assault Objective Zulu', the red team, which is made up of tanks and infantry, will get into a mutually supporting formation; they'll move from cover to cover, they'll observe the enemy, and they'll take advantage of flanking cover-and-fire positions," says de Plater. In other words, it's about high-level decisions, not grunt stuff and "housekeeping".
World War III forms the backdrop (it's going to happen in 2020, apparently - book your holidays now). Following the deployment of a missile defence shield that renders our nuclear deterrents void, and a simultaneous slowdown in the production of oil, everyone gets a bit rowdy. This game (described as "the first") deals with "the Atlantic theatre" - the East of North America, Western Europe and Russia. You can play as the US, Europeans or Russia, and the warground has been split up into about 40 different battlefields - Paris, Washington, Moscow and, er, Cape Canaveral space centre among them. But not London - apparently we're "kind of neutral", although that may change. As you may have read elsewhere, de Plater reckons Tom Clancy's new World War III setting is rife for further exploitation, so our time should come, even if we don't run out of tea or European Cup final tickets in this one.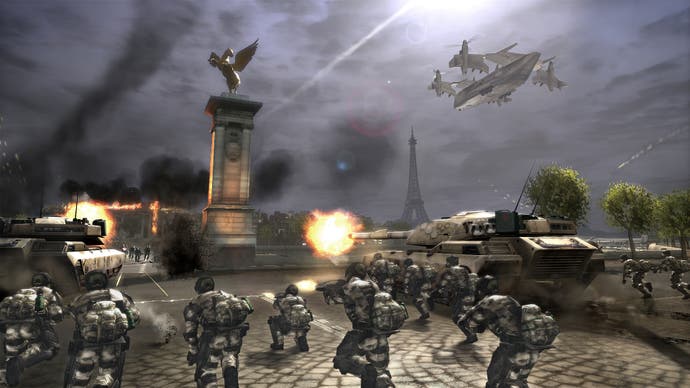 That the game offers voice command support has won it the most headlines so far. "In the previous four years the software for recognition has improved," de Plater says, anticipating our concerns. Plus, "with the power of the console relative to the PS2, you can dedicate more processor to it." In other words, they reckon they've got it to the point where you can confidently give orders and not expect to have to repeat them 18 times. Alternatively, you can rely on the pad controls, which are comparable to other tactical shooters. Very comparable apparently: "Our controls map almost exactly the same as Ghost Recon," de Plater says. So on Xbox 360, for example, that's d-pad or the left analogue stick to select units, the A button to give orders, X to hotswap around squads so you don't need to zoom in and out, and the right stick for controlling the camera independently.